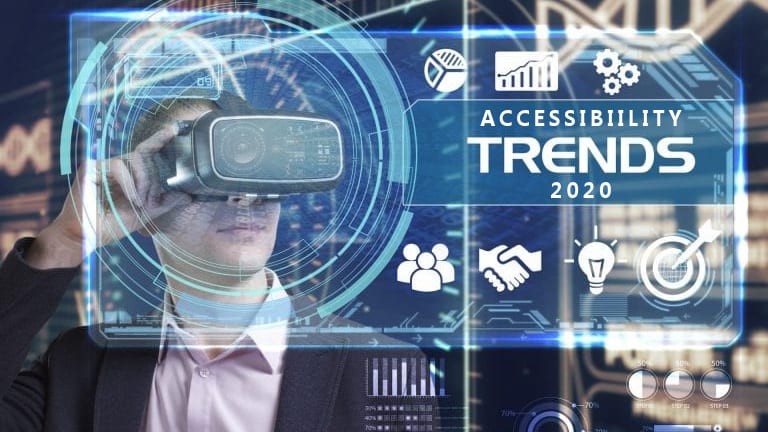 With each passing year new developments in technology help pave the way for people to live more efficient and independent lives. But with that expanded efficiency and independence often come challenges, especially as it pertains to accessibility. That is why it is important to take a look at how technology advances and trends benefit everyone, regardless of their abilities.
In our handicapped vans industry, this could mean something as small as a new securement device that allows for less caregiver assistance becoming available as an option for wheelchair users. Or, it could be the roll out of a new vehicle model, like our latest model the Toyota Sienna, for wheelchair users to choose from (because who doesn't like to have more options?). But, accessibility technology trends do not stop there.
So, what accessibility trends do we want to see in 2020? In this post, we'll look at just a few trends on the horizon and what they may mean for wheelchair users this year.
Artificial Intelligence (AI) Applications
AI is arguably one of the hottest trends in technology, and has been for quite some time. So, what makes this technology so new and exciting? It is how the technology is being integrated into accessible applications to make the lives of people living with disabilities a little bit easier. For example, the AI-powered app known as Ava, uses AI to provide real-time subtitles to conversations. This allows individuals who are deaf or hard of hearing to hold conversations, in real time and without the use of sign language.
Another example of how AI applications are being used includes improved accessibility for people with physical disabilities. One AI powered app is called Wheelie 7. This prototype kit allows for a wheelchair to be driven solely with the use of the wheelchair user's facial expressions. This helps individuals with conditions like quadriplegia or motor neuron diseases to gain the independence they may not have had before.
As more and more companies, like Microsoft and Hoobox Robotics, among others, put more funding into the research and development of AI powered applications, we'll know one thing for sure: AI applications are here to stay and we believe they will be an accessibility trend for some time to come.
Mobile Apps for Accessibility
Much like AI applications, mobile apps have proven to be a game changer for individual wheelchair users, their families and their caregivers. Some apps like WheelMap and AccessMap are already doing this (check out our other blog post for more information on these apps).
For other apps, like the newly introduced the WheelchairMate app, wheelchair users have access to detailed information that they never had access to prior to now. With WheelchairMate, users can find accessibility information about a location they are in. For example, they can see how close they are to an accessible restroom or where the nearest handicap parking space is located.
With mobile app development expected to grow by more than forty percent in the coming years, it can only mean good things for the accessibility community and the number of inclusive applications that will be created in the coming years.
Brain-Controlled Devices
Another technology driven trend, brain-controlled devices may seem like something straight out of a science fiction movie, but there are a number of companies exploring this technology as we write this. One such company is CTRL-labs, a startup that was recently acquired by Facebook. This company is in the development phase of a wristband that translates electrical signals into computer input commands. Essentially, this technology is making it possible for a user to interact with a device such as a computer or laptop without using a keyboard and mouse.
Much like CTRL-labs, the United States Department of Defense is testing a prosthetic limb that can be controlled solely through a user's thoughts. The goal of this technology is to allow for more natural prosthetic movements and give individuals without the use of an upper arm, for example, the ability to have upper arm movement again.
One other company looking into this technology trend is the car manufacturer Nissan. Their recent prototype explores the possibility of a driver being able to control the vehicle with their brain. The vehicle would anticipate the driver's actions and allow individuals, both able bodied and wheelchair users alike, to operate a vehicle in a much safer manner.
Increased Business Accessibility
Outside of the realm of technology, we have seen a steady increase in recent years of more businesses becoming accessible locations. Many businesses are doing this not only to avoid ADA lawsuits for accessibility compliance, but have also seen this as a way to bring more diversity to their company offerings and their workforce. We've seen this already through inclusive clothing lines at Target and also through expanded accessibility options in popular tourism destinations. No matter the reason, our hope is that this trend continues through this new year and more businesses expand their accessibility options and their availability to wheelchair users.
Growth for the Wheelchair Vans Industry
Research has predicted that the wheelchair van conversion market will grow by just over five percent between 2017 and 2025. For some companies, this means their bottom line is expected to grow. For our team at Rollx Vans, it means that we have a lot more people to help on their way to more independent lives. We do this through transparent pricing and staffing an experienced sales team that does not receive a commission based on the products they upsell to our customers. We also do this by offering the industry's best warranties on our new and used vehicle inventory and also backing it with a service team that will come right to your front door.
At Rollx Vans, our customers become our family and their independence is our number one priority. From the very first phone call or email with our team to the time they take the keys, our customers know that our team has them covered. We invite you to give our team a call today, we promise that you won't be sorry that you did.