Bringing Mobility Options to Chicago
Rollx Vans is proud to provide convenient transportation solutions to those in Chicago and the entirety of Illinois. As the city's and state's premier provider of personalized and highly affordable mobility solutions, Rollx Vans offers great customer service online and on the phone, 24/7.
Buy a New Conversion or Used Wheelchair Van in Chicago, IL, or Modify Your Vehicle
You won't find a larger on-site inventory of affordable new and used wheelchair minivans and vans than you will find at Rollx Vans. You can check out the extensive inventory of reconditioned vehicles online. All of our vehicles have been customized to help drivers and passengers with Multiple sclerosis (MS), Rheumatoid Arthritis, Amyotrophic lateral sclerosis (ALS), and Muscular Dystrophy.
Each accessible van must pass our 171-point inspection to be considered a part of our gold standard satisfaction guarantee program.
Rollx Vans can also customize your current van or minivan to become handicap and wheelchair accessible. Our process makes vehicles more convenient and more operable. Ready to browse our selection of wheelchair vehicles? View our inventory today!
Buying a Handicap-Access Van from Your Chicago Home
Purchase your new or used handicap-accessible van or minivan over the phone, from the comfort of your own home. Our expert mobility consultants have a wealth of experience and are happy to help.
Looking to sell? Rollx Vans purchases professionally modified, gently used vehicles from those in Chicago and the state of Illinois.
From new conversion van sales to custom conversion services, Rollx Vans prioritizes providing convenient and personalized transportation solutions to people in Chicago. Just call us at 800-956-6668 to talk about financing your new accessible van from Rollx Vans and having it delivered right to your driveway.
"Much more satisfied than with your competitor. Like the faster, better service response and ease of service. " Customer review by B.A. from Burr Ridge, IL
B.A. - Burr Ridge, Illinois
"I have purchased two vans from Rollx. I feel Rollx really understands the needs for people who require a ramp van. Rollx is a great company!" Customer review by J.H. from Highland Park, IL
J.H. - Highland Park. Illinois
Need Service?
If your van needs service, Rollx Vans offers three different service options: We can send a representative out to you, connect you with one of our preferred service shops, or work with your preferred service shop to help them with the repair process.
Rollx Vans Service Technicians Near You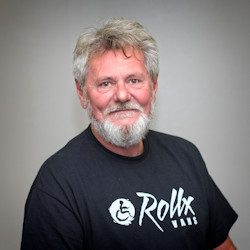 Darrell Grandadam
Field Technician
Disability Grant Opportunities In Chicago, IL