FRIENDSHIP HAS ITS BENEFITS
The Rollx Vans "Refer and Earn" process is simple. Just tell the person you're referring to mention your name when they first contact Rollx Vans or you can complete the contact form below and we'll be ready for them when they call. Either way, they'll receive a $250 discount on their first van purchase. When they receive their van, you'll receive a $500 check. It's that easy!
You earn $500 when you refer someone that purchases a new or used Rollx Accessible Vehicle*
Your referral receives a $250 discount off the price of their first vehicle purchase
Click the box below and start earning today!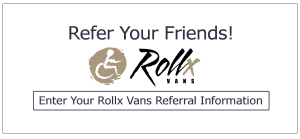 *Must be someone looking to purchase a wheelchair accessible vehicle who has not already been in contact with Rollx Vans.