Wheelchair Vans Illinois
Are you looking for a wheelchair accessible van for sale in Illinois? Our wheelchair accessible vans provide a comfortable and safe way for individuals with disabilities to travel.
#1 Choice for Wheelchair Vans in Illinois
Celebrating 45 Years of Service
It's our business to make sure you drive away with the best wheelchair van in Illinois. We go the extra mile and added expense to build a new or used accessible van that is safer, more comfortable and better suited to your needs.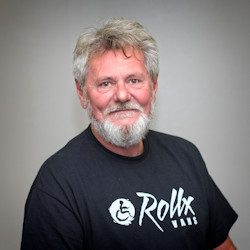 Darrell Grandadam
Field Technician
Disability Grant Opportunities In Illinois
Available for Illinois Customers
"Much more satisfied than with your competitor. Like the faster, better service response and ease of service. " Customer review by B.A. from Burr Ridge, IL

B.A. - Burr Ridge, Illinois

"I have purchased two vans from Rollx. I feel Rollx really understands the needs for people who require a ramp van. Rollx is a great company!" Customer review by J.H. from Highland Park, IL

J.H. - Highland Park. Illinois
Frequently Asked Questions
About Buying a Wheelchair Van in Illinois