Why choose Rollx Vans for your first or next wheelchair accessible vehicle? At Rollx Vans our number one priority is our customers. That's why we strive to help our customers to find independence through wheelchair vehicles each and every day. As you'll see below, this leads us to provide the best custom wheelchair van on the market, because only the best will get our customers to where they want to go.
Explore What Makes Us Different
Safety
Safer is always better. Which is why safety is the basis of our entire wheelchair accessible vehicle conversion process. Each of our vehicles go through rigorous testing that meets or exceeds the highest safety standards in the wheelchair van market. In fact, while other wheelchair manufacturers use multiple vehicles for testing, we passed all three Federal Motor Vehicle Safety Standards (FMVSS) tests with just one of our wheelchair vehicles. If that doesn't speak to our safety standards, we don't know what will.
Quality
At Rollx Vans, our quality speaks for itself. But, if you have not experienced the Rollx Vans difference for yourself, here's a few reasons why our quality is higher than the rest. We back each of our vehicles with a satisfaction guarantee on wheelchair van delivery. This means if our customers are not happy with the quality of their vehicle, we will make it right. That even includes any of our previously owned wheelchair vehicles, that we take through the full conversion process to ensure they leave our facility as Certified Used Reconditioned Vehicles. We also back each and every wheelchair accessible vehicle with a commitment to safety by holding the ISO 9001: 2015 Quality Management Certification.
Transparency
While our customers know that the safety and quality of our wheelchair vehicles speaks for itself, if you haven't worked with us before you will quickly learn that our team strives to deliver a transparent experience from the first conversation to the last. This starts with listing all wheelchair van pricing on our website, so our customers know what they're getting right from the very beginning stages of browsing our wheelchair accessible vehicle inventory online. But it doesn't stop there. Our solution based Sales Team doesn't make a commission on upselling customers conversion features they don't need. This means every person you speak to on our team has your best interests in mind, helping you find the best deal for your money and even helping you find any funding assistance you may qualify for. That's the Rollx Vans difference.
Selection
We know that finding the perfect wheelchair van is a top priority for our customers. That's why we make our inventory selection a priority, too. At Rollx Vans, we are an industry leader in wheelchair accessible vehicle selection. We have the largest onsite inventory of wheelchair vehicles available. With our wheelchair van selection you will find:
New or Used Minivans
New or Used Full-Sized Vans
Used Vehicles with New Conversions
But, selection doesn't stop there. We offer each of our customers the largest selection of conversion features, as well. This includes adaptive driving equipment options like:
Ramps and Lifts
Trackless Transfer Seats
Hand Controls
Tiedown and Securement Devices
And, more!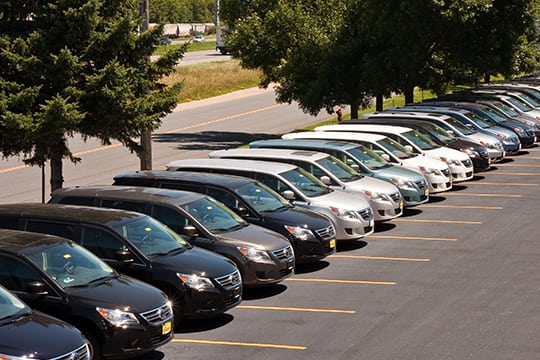 Convenience
At Rollx Vans, we are a complete one stop shop built around customer convenience and choice! This convenience starts with our customers cutting out the middleman and working directly with the wheelchair van manufacturer. Our customers find that this gets them to the exact wheelchair accessible vehicle they were looking for without the back and forth hassle that comes with waiting for answers.
Our team continues to offer convenience for our customers by delivering wheelchair vehicles right to their door. That's right – a Factory Certified Technician brings your completed order right to your door. We also offer the most flexible service offering in the industry with at-home service by those same Factory Certified Technicians throughout most of the U.S. and a network of over 300 service partners to provide you the most convenient and cost effective plan available. And, with our 24/7 Roadside Assistance Protection Plan, the convenience for our customers experience doesn't stop.
Watch Video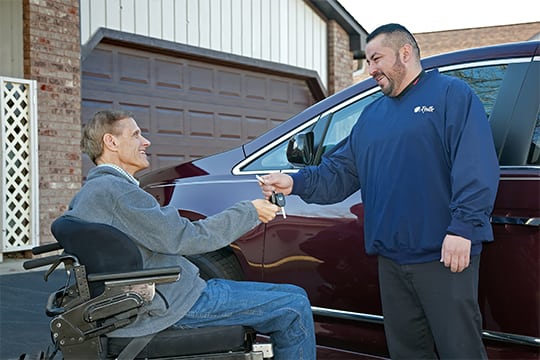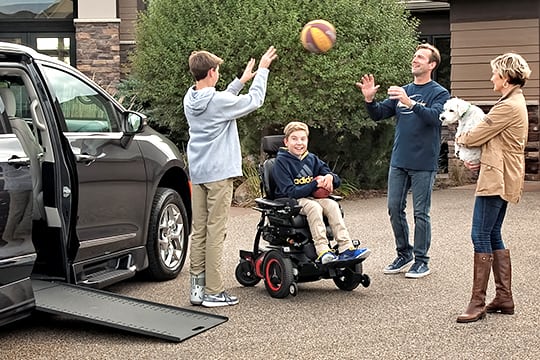 Track Record
We know that our company is the best wheelchair van dealer and manufacturer in the market. In fact, we'd like to shout it from the rooftops, but we prefer to let our industry leading customer satisfaction with our wheelchair vehicles speak for itself. You can read the wheelchair accessible vehicle customer reviews we have on our website, the reviews featured on sites like Trustpilot, or do a quick Google search – just input our name or one of our competitior's names "+ reviews" into the search bar and see our track record for yourself.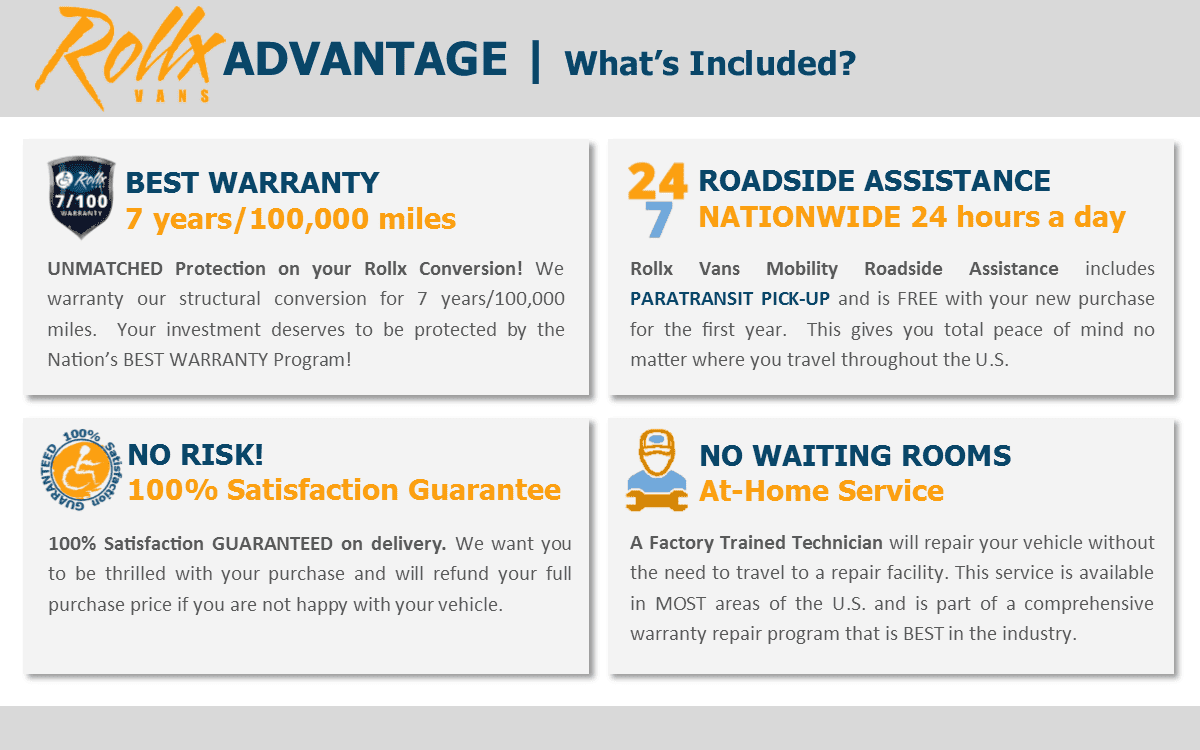 Rollx Vans Guarantee
We want you to be thrilled with your wheelchair van purchase. That's why we offer a 100% money back guarantee upon delivery if our customers aren't full satisfied with their wheelchair accessible vehicle. It's also why we offer the longest lasting, most reliable minivan or full size van on the market backed by the best structural warranty in the industry – 7 year/100,000 mile warranty! We know that you will love our wheelchair vehicles, that's why they come standard with the Rollx Vans guarantee.
Video Testimonials
Charlie K.
Monticello, IA
Why Not Rollx Vans?
At Rollx Vans we believe that you won't know something until you give it a try. It's why we send out one of our experienced team members with every wheelchair van delivery, so they can help our customers try their vehicle for the first time and ensure they are comfortable with all the conversion features. We know that our safety, quality, transparency, selection, convenience and track record when it comes to our wheelchair accessible vehicle rises above the rest. That's why we've been a leader in our industry for more than 40 years. So, why not give our team a try, so we can prove to you that we are the very best in the wheelchair vehicles industry? We promise you won't be sorry that you did.