No matter the situation, whenever someone's vehicle breaks down unexpectedly it causes them an inconvenience. It can cause the owner to miss a day of work or seeing their child score the winning run of a baseball game. It causes unnecessary stress and many times requires some juggling to figure out another form of transportation. But, it doesn't stop there. It also leads to needing to find a shop that's able to fix the problem quickly, easily and within your budget. It's a hassle that no one really wants to experience, and quite honestly it's something that most people don't want to deal with. And for wheelchair users, it can be much more troublesome.
For wheelchair users that rely on one specific vehicle, often a custom wheelchair van, to get from place to place, they are usually stuck with no other option for transportation until their vehicle is repaired. That's why our team at Rollx Vans created a wheelchair van service plan that offers convenience and reliability for our customers. It allows wheelchair users a convenient way to have their wheelchair accessible van service completed, without having to spend countless hours searching online for "wheelchair van service near me."
Your Wheelchair Van Service Plan
At Rollx Vans, our convenient wheelchair van service starts the second your van stops. That's why we are on top of it from the second you call until the very moment you are back on the road, getting from place to place. If your wheelchair van ever needs repair work our certified technicians are on the job. Rollx Vans offers three convenient wheelchair van service options to ensure the work gets done and you get back on the road.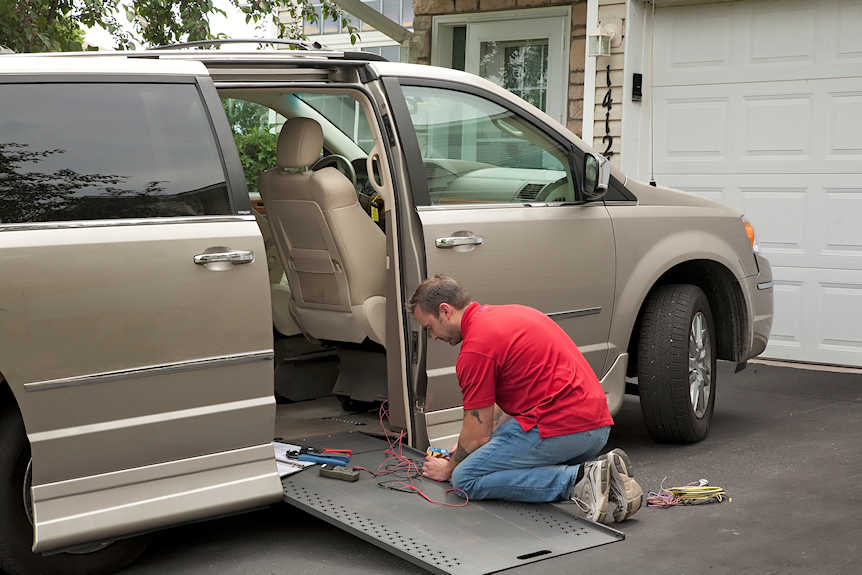 These options include:
Convenience at your doorstep. Having an experienced Rollx Vans technician come out to your home. Rollx Vans is the only handicap vans manufacturer that offers at-home service in many areas of the United States. This takes the "wheelchair van service near me" right to your home.
Convenience in your area. Having a Rollx Vans customer service representative help you find one of our many preferred wheelchair accessible van service shops in your area.
Convenience in your hometown. Having a Rollx Vans customer service representative work with your local repair facility to complete the service while you are close to home.
Wheelchair Accessible Van Service Wherever You Are
The exclusive at-home service programs offered by Rollx Vans is one of the most successful service models in the industry for servicing wheelchair vans. No matter where you live, we have service available for you and you won't even need to browse for "wheelchair van service near me."
But, this isn't the only service option we provide for your wheelchair vehicle. We currently have over 360 service partners nationwide. With locations all across the United States, and even a few in Canada and Puerto Rico, we partner with one of the largest networks of wheelchair van service plan providers in North America.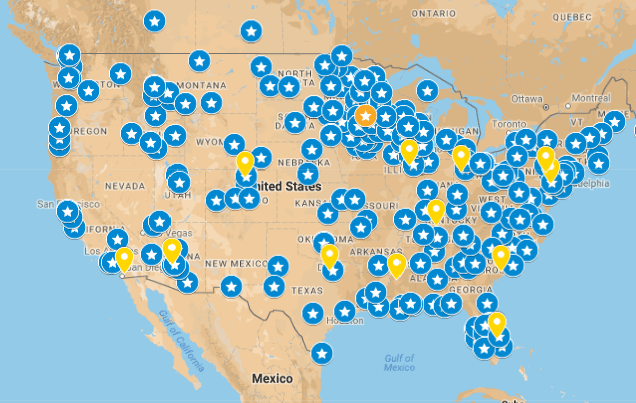 Rollx Vans 24/7 Roadside Assistance Protection
But, we know that you aren't always at home when trouble occurs and vehicles can break down while out on the open road. So, in addition to the wheelchair accessible service plan options Rollx Vans provides, we have also partnered with Mobility Support Solutions to provide the absolute best roadside assistance available for our customers. We call this our Mobility Roadside Assistance program. It was created to ensure our customers don't get left on the side of the road and gets their passengers where they need to go safely, too.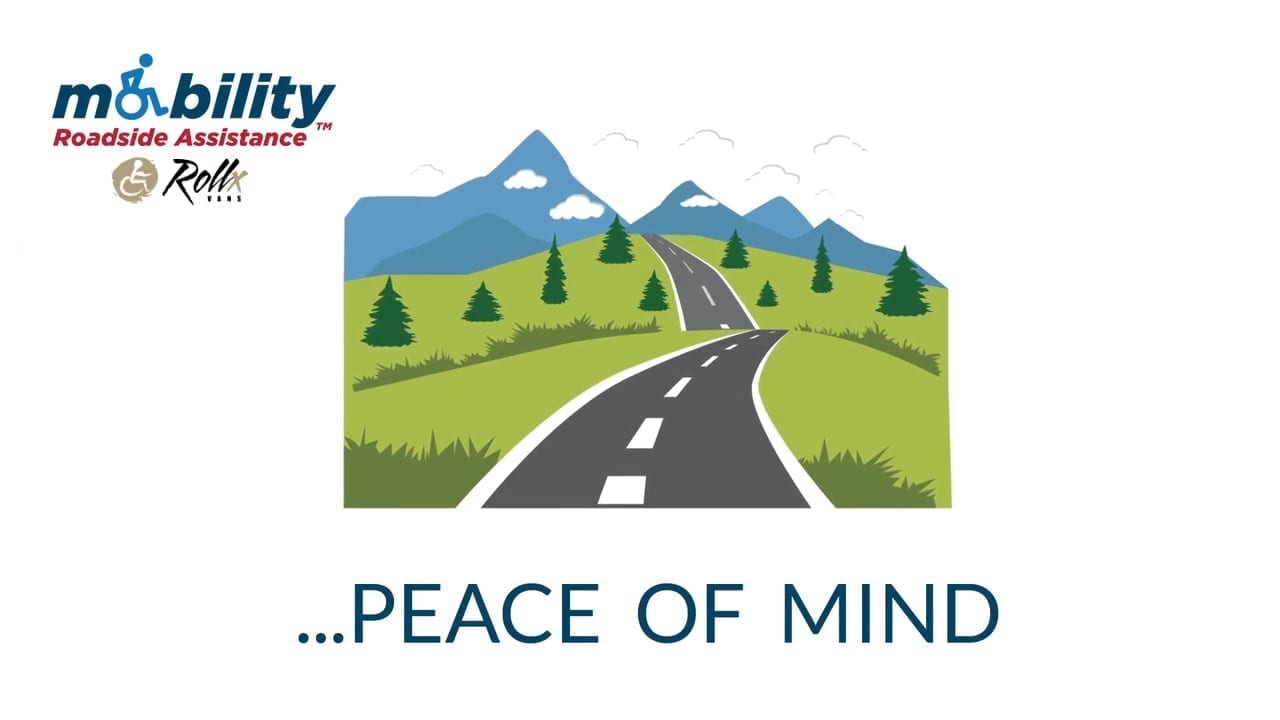 The Rollx Vans Mobility Roadside Assistance program includes support for our customer's vehicles, wheelchair or scooters, such as:
PARATRANSIT ASSISTANCE
TOWING SERVICE
WHEELCHAIR ASSISTANCE
LIFT ASSISTANCE
FLAT TIRE ASSISTANCE
GAS AND FLUIDS DELIVERY
LOCKOUT SERVICE
JUMP START
WINCHING/EXTRACTION
TIRE REPAIR & REPLACEMENT
You can learn more about this program here
Going Above and Beyond to Provide Wheelchair Van Service Near Me
If your van is still under warranty, these services will still be covered. If your van isn't under warranty, don't fret. We'll still be able to fix your wheelchair van, the same as if you brought it directly to a mechanic. Rollx Vans aspires to go above and beyond your expectations, providing the best service possible and the best products on the market. Whichever way you look at it, Rollx Vans strives to make sure your handicap van continues to get you out and about for years to come.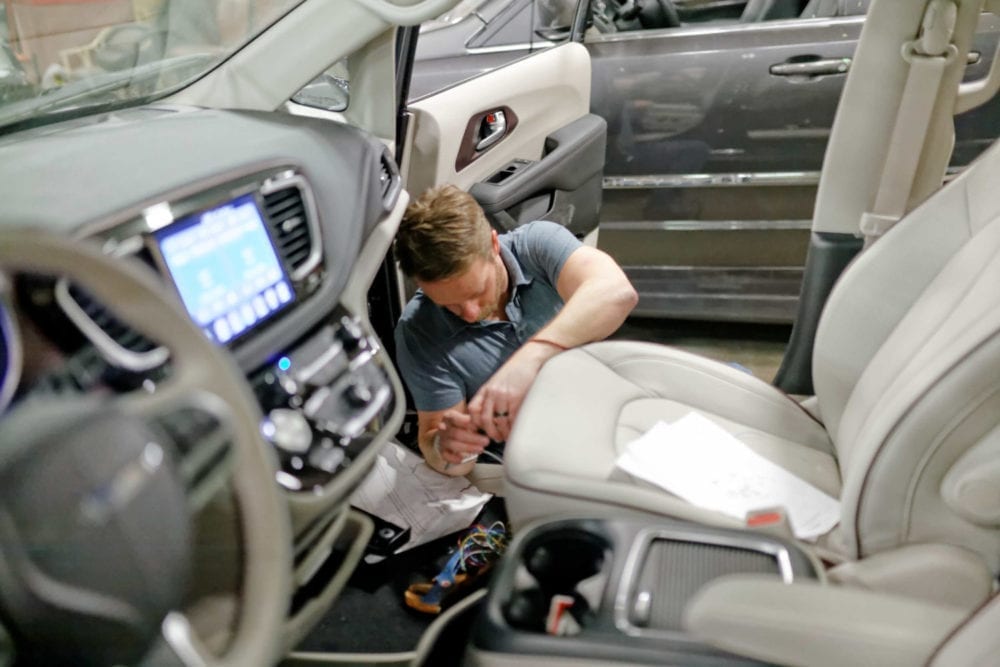 And if all of the service convenience we provide isn't enough, we also make it incredibly simple to take advantage of our wheelchair accessible van service plan. If you find yourself in a situation where you need service assistance, instead of searching online for "wheelchair service near me," please reach out directly to our service department. Our customer service representatives will be able to assess your needs and schedule assistance for you as soon as possible. We'll be with you every step of the way, from the time your van stops until you're back on the road again. We make it easy, safe and convenient. That's the Rollx Vans way.