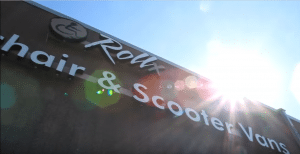 At Rollx Vans, you'll often hear us speak about our mission to make a difference for the people in disability communities. One way we do this is through our partner program. Another is through our blog: sharing news, resources and information about other people and organizations making a difference.
One organization we recently learned about is doing just that. For them, they're looking to change the face of beauty one event at a time.
The Story Behind the Organization
Changing the Face of Beauty is a nonprofit organization looking to change the standards within advertising and media to be equally inclusive of people with all abilities. They're doing this by partnering with private and commercial retailers around the United States and advocating for inclusion.
Additionally, they're providing marketing materials, educational programs and support programs in an effort to educate these industries on the benefits of inclusive imagery. The end goal of their efforts being to change perceptions within the advertising and media industries, so inclusion will become a common practice.
Changing the Face of Beauty Events
One way this organization is bringing awareness to the forefront is by sponsoring events around the country that bring children and adults of all abilities together. Last week, one of these events took place in Chicago.
On April 19, Changing the Face of Beauty partnered with Land of Nod (a children's furniture store) to hold a fashion show. The models, of course, were children with all abilities: some were professional models, some had cognitive disabilities, and others used wheelchairs or had limb differences.
The event didn't focus on any of the disabilities present, but rather the joy that all the children displayed while modeling the clothing and the fun they were having. It brought awareness to the fact that children with disabilities are the same as all the other kids, and that's exactly what Changing the Face of Beauty has set out to do.
Getting on Board with their Mission
While it's possible that some of our customers were at this event with their wheelchair vans in Chicago, the organization is moving its headquarters to Michigan. They'll be launching an upcoming photoshoot from their new location, and we can't wait to see all the imagery they're able to put together on behalf of their partners.
What do you think of this organization's mission? Is this something we need to see happening more often? Comment below to join the conversation!