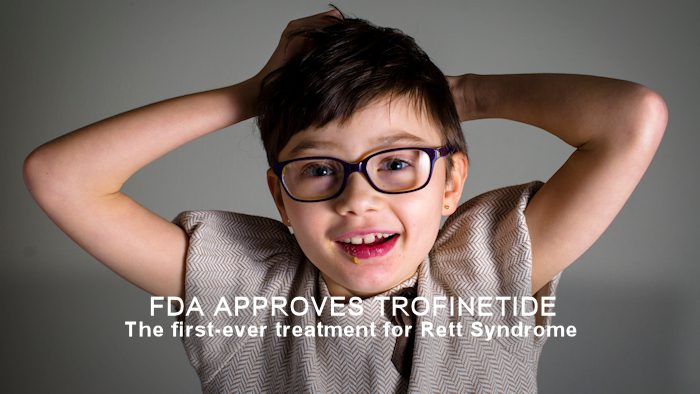 In March, the Food and Drug Administration announced an important milestone in the fight against Rett syndrome. The FDA approved Daybue (trofinetide), a prescription oral treatment for adults and children 2 years of age and older who suffer from this rare but devastating neurological disorder. The development and approval of the first official treatment for Rett syndrome strengthens our hope and belief that there will someday be a cure for this condition.
What Is Rett Syndrome?
Rett syndrome is a genetic neurological and developmental disorder that primarily affects females. One in 10,000 females suffer from this condition, which impacts the development of the brain and can lead to a loss of communication and motor skills.
Because it's so rare, and because it shares several symptoms with more common conditions like cerebral palsy, it sometimes goes misdiagnosed. The tell-tale symptom of this condition is repetitive hand movements, such as clapping or squeezing.
Babies with Rett syndrome often appear to have little or no developmental issues through the first six months. Between six and 18 months, babies with Rett syndrome may lose skills they've already developed, including verbal communication, the ability to crawl or walk, and the use of their hands. Other symptoms of this disorder include issues with breathing, eating, and sleeping.
While there are common signs and symptoms, Rett syndrome affects individuals in different ways. A child may experience the effects of the disorder in different ways and at different points in their life.
How Daybue Can Make a Difference
Prior to this year, treatment for Rett syndrome had been limited to addressing symptoms of the disorder, including speech and physical therapy. Prior to FDA approval, Daybue was the subject of a 12-week clinical trial that measured the effectiveness of the medication with respect to several symptoms of the condition.
During the trial, 93 female patients between the ages of 5 and 20 were given Daybue while 94 patients were given a placebo. The patients were evaluated throughout the process by their caregivers, who observed changes in symptoms and reported their findings using the Rett Syndrom Behaviour Questionnaire. The RSBQ accounted for common symptoms including but not limited to hand movements, repetitive behaviors, breathing, and vocalizations. At the conclusion of 12 weeks, the RSBQ scores revealed that patients given Daybue experienced less severe signs and symptoms of Rett syndrome than those given the placebo.
Patients taking part in the clinical trial were also observed by doctors, who evaluated changes in Rett syndrome symptoms using the Clinical Global Impression-Improvement scale. These results showed that 38% of patients taking Daybue demonstrated an improvement in symptoms after 12 weeks compared to a 15% improvement among those taking the placebo.
How to Get Daybue
Before you consider Daybue for someone affected by Rett syndrome, talk to your healthcare provider. The most common side effects are diarrhea and vomiting, and your doctor can recommend strategies to mitigate these issues.
Once you're prescribed Daybue, you'll have access to a patient and family support program called Acadia Connect. The Acadia Connect support team includes a Nurse Care Coordinator and Family Access Manager who will work with you on points like insurance, financial assistance, and education on the treatment process.
Daybue is taken orally twice a day and can be administered via a gastrostomy tube. The medication is a strawberry-flavored liquid that can be taken with or without food. It's recommended that doses are taken in the morning and evening — if you accidentally miss a dose, skip to the next dose at the recommended time and do not administer two doses.
If you have questions about Daybue, talk to your healthcare provider or check out the resources available on the Daybue website.
Rollx Vans Supports the Fight Against Rett Syndrome
The team at Rollx Vans is thrilled by the news that the FDA has approved the first treatment for Rett syndrome. But we know that there's still much work to be done as we push on toward a cure. That's why we're proud that the International Rett Syndrome Foundation is one of our participating partner organizations, and why we're proud to take part in the annual Minnesota Strollathon. Last year's event was a beautiful success, and we look forward to taking part in the 17th iteration of the event later this year.
Rollx Vans is here to help individuals and families nationwide navigate mobility challenges and enjoy the independence they so richly deserve. Over the last 45 years, we've helped more than 20,000 customers, and we're far from done. If you need a new or pre-owned accessible vehicle or want to explore conversion options for your current van, we offer free consultations and convenient perks like nationwide shipping and service.
Ready to get started? Call Rollx Vans at 800-956-6668, send us a test at 952-522-8330, or email questions@rollxvans.com.