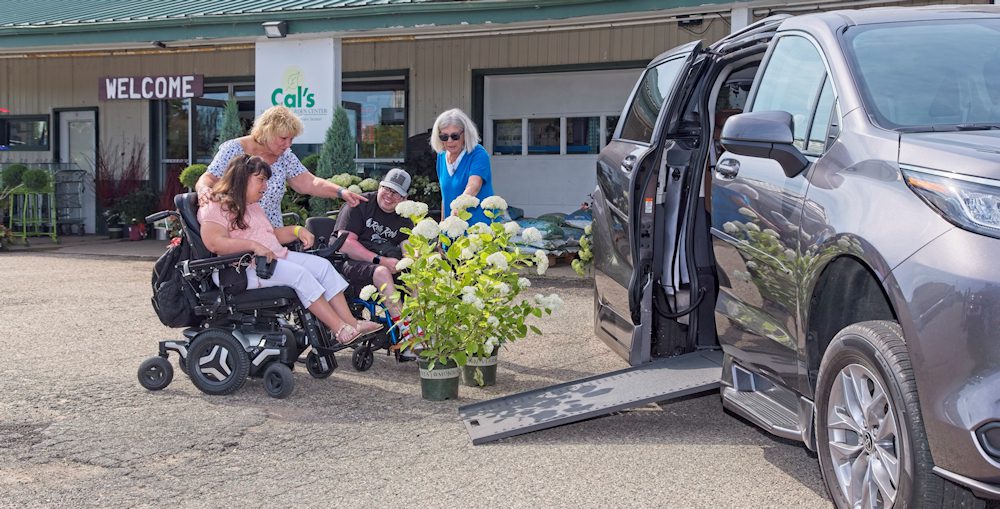 Your new wheelchair-accessible van is an investment in yourself. And it's a promise that's worth protecting. That's why Rollx Vans is proud to back up our world-class vehicles with world-class service and protection whether you're located near our showroom in Savage, Minnesota, or one of our thousands of customers nationwide.
Three Service Options to Meet Your Needs
Routine maintenance is critical for keeping your wheelchair van on the road for as long as possible and keeping you as safe as can be. To ensure that your vehicle is getting the care and attention it deserves, your Rollx Vans service plan offers three convenient options to meet the needs of our more than 20,000 customers nationwide.
At-Home Service
We're the only wheelchair van manufacturer to offer at-home service in most areas of the US. It's as simple and convenient as it sounds. If your vehicle needs routine care or requires repair, you can call us toll-free at 800-956-6668 to schedule an appointment with one of our dedicated field technicians. From there, we'll come out to your home to perform whatever work you need done so that you can get back to enjoying the freedom of mobility with full confidence.
We're like a family at Rollx Vans, and that includes our customers. So when you schedule an at-home service visit, you're not just getting help from a tech. You're getting help from a person who cares — people like Darrell, Ron, and Jose. Our people-first focus is why our at-home service and maintenance program is one of the most successful service models in our industry and the automotive industry at large.
Over 360 Nationwide Service Partners
You can also work with our customer service representatives to access one of the largest networks of wheelchair van service providers in North America. Rollx Vans works with more than 360 nationwide service partners — as well as partners in Canada and Puerto Rico — to offer our customers another layer of confidence.
Whether you get ahold of Rob, Charlie, or Becky, your expert representative will find a partner service provider in your area and make the necessary arrangements. In fact, in any situation where you need service assistance, our team will be there for you to ensure that you don't have to go it alone.
Choose Your Local Repair Facility
If you also have a standing relationship with a local repair shop that's been good to you over the years, we understand and respect your choice. Our customer service team would be happy to reach out and work with your local repair facility of choice to help ensure that your Rollx Van is fully taken care of.
Rollx Vans Mobility Roadside Assistance
Even with preventative maintenance and care, flat tires and breakdowns can happen. When an unfortunate incident occurs, Rollx Vans has your back with a comprehensive roadside assistance program.
We've partnered with Mobility Support Solutions™ to offer specialized roadside assistance services from over 35,000 tow providers across the country. This includes paratransit assistance, towing to the nearest service facility up to 100 miles, tire repair and replacement, and gas and fluids delivery. Your plan also includes wheelchair assistance for issues related to your personal mobility device and lift assistance.
While we all hope to never find ourselves in a situation where we're stranded and need help, Rollx Vans Mobility Roadside Assistance offers the assurance that you're protected if you ever do.
The Rollx Vans Handshake
Speaking of protection against worst-case scenarios, Rollx Vans offers exceptional warranty protection on all new and pre-owned handicapped vans we sell. If you purchase a new Chrysler Pacifica or any of our newly converted wheelchair vans, you're covered by a 3-year or 36,000-mile power equipment warranty whichever comes first. That protects essential components like the doors, ramp, and easy-entrance kneeling system.
Rollx Vans also offers the longest structural warranty of any wheelchair van manufacturer, clocking in at 7 years or 100,000 miles for all new minivans, whichever comes first. We call it the Rollx Vans handshake because it's like a grip that doesn't let go, and we're there when you need a helping hand to pull you up.
You'll also get extensive warranty protection if you opt for one of our full-size vans, including the Ram ProMaster or Ford Transit. Power equipment coverage ranges between 1-3 years and up to 36,000 miles depending on the product, and structural protection covers you for up to 6 years or 60,000 miles, whichever comes first.
Our wide selection of high-quality pre-owned minivans and full-size vans are also protected by great warranties. Because coverage varies based on the vehicle in question, you'll want to call our team at 800-956-6668 to ask about any specific vehicle you have in mind.
And because we have an extended network of service providers across the country, you won't need to go out of your way to get work done if you need repairs. Just contact our customer service team and we'll get you all squared away so you have one less worry.
Extended Service With Protective
We also back up our work with an extended service contract, available through our partner Protective. Protective's Complete Coverage plan covers mobility equipment added to your converted vehicle as well as factory equipment and essentials like roadside assistance.
Our goal at Rollx Vans has been clear for 45 years: to ensure that our customers can enjoy the full freedom of mobility without limitations. That's why we strive to cover every aspect of your experience, from the moment you start browsing our selection of vehicles and for hundreds and thousands of miles yet to come.
If you'd like to get started, we're here to help. Just call Rollx Vans at 800-956-6668, send us a text at 952-522-8330, or email questions@rollxvans.com.  Also, our live emergency service line 612-670-8409 is answered on evenings and weekends.