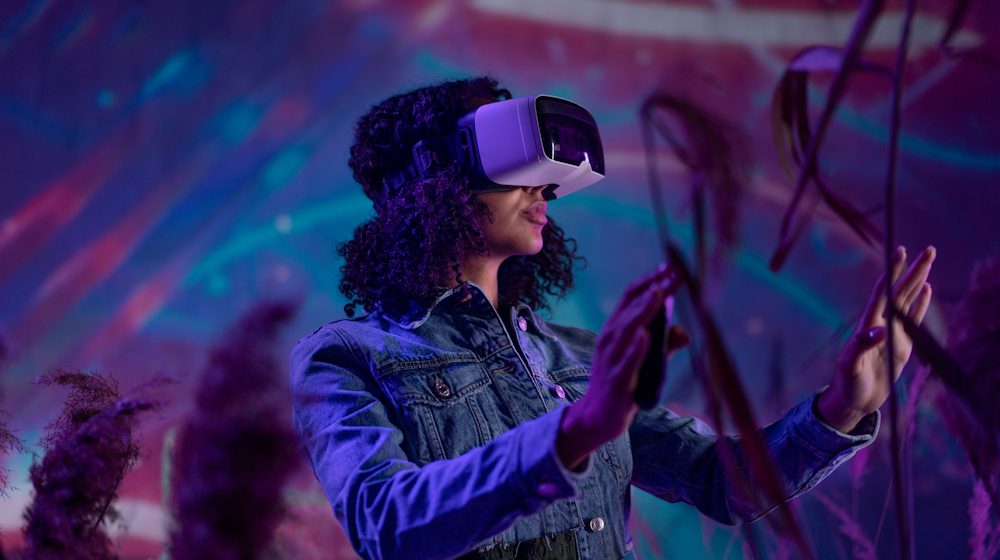 Virtual reality has taken incredible leaps forward in recent years, and its potential in terms of entertainment and education is nearly limitless. This technology allows us to learn, experience, and grow in ways that may have once seemed unfathomable. VR is a particularly useful tool for people with disabilities, opening the doors to new worlds, new skills, and new levels of confidence and independence.
What Skills Can You Learn with VR?
Virtual reality is becoming more affordable, more widely available, and more advanced. With VR peripherals available for PCs and consoles, it's a rapidly-expanding platform for interactive entertainment. Virtual reality games can transport you to new, fantastic places — slip on a VR headset, and you can suddenly find yourself aboard a ship exploring a far-off galaxy or inheriting the skills of a beloved superhero.
VR can be used to build your understanding of the world by letting you see more of it. There are virtual reality apps that allow you to explore art and history museums, the tomb of King Tut, and even pilot the Apollo Lunar Module in rich and accurate detail. Developers see the potential of virtual reality as an educational tool and have been using it to increase access to knowledge.
Because VR games can be played online with others, it's also an opportunity to develop and sharpen social skills. If your disability makes you feel self-conscious or shy, the anonymity of online gaming offers the chance to talk with others in a low-stakes social situation. There are even specialized VR apps for people with severe anxiety or autism spectrum disorders that focus solely on developing effective communication skills. Over time, these tools may help you become more confident in real-world social settings.
Virtual reality is also being used more frequently as a tool for therapy and physical rehabilitation. Pairing rehabilitative exercise with virtual reality makes the experience more enjoyable and meaningful, and it can be used by individuals with neurological conditions like multiple sclerosis and Parkinson's disease.
Learning Driving Skills with Virtual Reality
If you're inexperienced with driving and want to learn but lack the confidence or means to get behind the wheel, virtual reality can be a great place to get started. VR driving simulators take several different forms, from commercially available driving sims you can play in your living room to simulators built into repurposed vehicles to give users a more authentic in-vehicle feel. What they all have in common is that they can be helpful in teaching drivers essential skills like steering, accelerating, and braking.
What makes VR simulators especially helpful for drivers with disabilities is that they offer a lower-pressure, lower-stress learning environment than real-world driving. Being behind the wheel of a car in live traffic can be a harrowing experience even if you've spent time on the road. It can be even more frightening if you've never driven on a public street or are re-learning how to drive with a disability. Simulators teach you how to better recognize hazards and react to them, and it does so in a situation that's safe and conducive to learning from mistakes.
Learning how to drive with a VR simulator also allows you to work at your own pace. Safely practicing your skills in the real world requires different elements to come together just right, including the availability of an accessible vehicle and a driving instructor, the weather, and the time of day. But with a driving simulator, you can practice driving at night or in inclement weather in the early morning of a beautiful spring day.
And it provides the opportunity to experience exciting new places behind the wheel. While virtual racing simulators and driving games may not be completely catered toward educational purposes, they offer a fun way to put those skills to the test in beautiful international cities and on world-famous race tracks. This can help you create goals for future travel and give you something to look forward to once you become completely comfortable behind the wheel.
The continued development of virtual reality promises even more possibilities for the technology as a driving instruction tool. Future driving simulators may be able to accurately depict the streets and highways of your city, allowing you to navigate them with accuracy. This would give you more confidence for getting around on a daily basis and make it easier to adapt when you do get behind the wheel of your accessible vehicle.
Rollx Vans Wants to Help You Enjoy the Freedom of Mobility
Virtual reality can be an incredibly beneficial tool for people with disabilities, especially those looking to reclaim their independence and get back out on the road. Rollx Vans is here to help you on your journey however we can, from our expansive selection of new and pre-owned wheelchair-accessible vans to our simple financing process.
If you're looking for resources that will allow you to build the skills you need or would like to work with an ADED-Certified Driver Rehabilitation Specialist, the team at Rollx Vans can help point you in the right direction. And if you're ready to get back out on the road and enjoy the freedom of reliable mobility, we're your trusted resource with 45 years of experience serving drivers nationwide. To get started, contact us by phone at 800-956-6668, send us a text at 952-522-8330, or email questions@rollxvans.com.