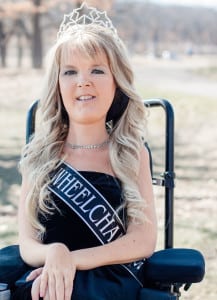 Recently the Ms. Wheelchair USA organization announced the winner of the 2014 title for Ms. Wheelchair Minnesota. For the second year in a row it's Minnesota native, Jen Onsum.
From an early age, Jen has been doing advocacy on behalf of the Muscular Dystrophy Association (MDA), as both she and one of her older brothers have Spinal Muscular Atrophy (SMA). She spent three years in ambassador roles for the MDA as a child, and has participated in numerous activities and sports her entire life.
In 2003, Jen was Ms. Wheelchair Minnesota-America (which is separate from Ms. Wheelchair USA) and she's spent time modeling for Otto Bock Healthcare and Target. Outside of these activities Jen does outreach to elected officials for topics she is passionate about.
Jen is excited to be named Ms. Wheelchair Minnesota for a second term and is looking forward to competing for the title of Ms. Wheelchair USA next year. In anticipation of the coming year, she answered some questions for us about her role as Ms. Wheelchair Minnesota.
Why did you initially enter to be Ms. Wheelchair Minnesota for 2013? And, what made you want to enter again for 2014?
I discovered Ms. Wheelchair USA while doing some research a couple years ago and loved the idea of it. I loved that it promotes not only your accomplishments and advocacy, but also your glamorous side. I loved the idea of it being a full stage production and having outfit changes, including an evening gown competition. Fun and glamour aside, I just really loved the idea of spending a year as a representative of the disabled community and as a role model for people with disabilities. Sharing my experiences, knowledge, motivation and determination to have a positive impact in the lives of others is what I truly love to do.
The Ms. Wheelchair USA 2013 Pageant was an absolutely wonderful experience. I met so many great people and learned so much from the experience and also my fellow titleholders. I left feeling motivated and inspired to do more in my community. I started making great connections after I returned and since I have a long list of things I'd like to do and accomplish in the role as Ms. Wheelchair Minnesota, I felt very strongly that I wasn't done yet. My mission wasn't over and there's more I need to do. I was and still am very pleased with my second runner-up outcome in Ms. Wheelchair USA 2013. We'll see what happens in 2014.
Your 2014 platform is "Keeping Your Attitude Active," can you explain what that means?
I feel strongly that having the right attitude and being active are essential in life, especially if you have a disability. Attitude is everything. And, in some ways, not having the right attitude can be the most extreme disability. Not having a good attitude can really hold you back in life and prevent you from living a happy and successful one. With the right attitude, anything is possible. Being active plays a large role in having the right attitude.
I'm so passionate about getting out of your home and finding something to do. Too many people with disabilities stay in their homes and these people can have the mindset that they aren't capable or that they don't matter, leading to a negative outlook and attitude. Getting out and finding something to do gives you a sense of purpose and belonging, which will help you have a good, positive and motivated attitude.
What has been your favorite part about being Ms. Wheelchair Minnesota so far?
Connecting with people. I love getting to meet people of all ages! I recently met a sweet older gentleman who had been recently diagnosed with ALS and despite knowing he had a devastating disease and had questions about what was going to happen with him, he was still very happy and outgoing and he just made me smile.
I also recently met an adorable little girl with SMA, who is already a princess in her own mind and after seeing my crown, was curious about who I was. My picture with her is one of my favorite pictures from my time as Ms. Wheelchair Minnesota.
What are you hoping to accomplish over the next year as Ms. Wheelchair Minnesota?
I have a long list of people, places and events I want to connect with. I would also love to go see Ellen DeGeneres and dance with her. But really, my ultimate goals are to open as many eyes and ears to the needs and capabilities of people with disabilities so that we continue to break down barriers in society for people with disabilities; and to motivate, inspire and show people with disabilities that they can do whatever they set their mind to and achieve whatever their goals and dreams may be, no matter what their disability is.
Any advice or words of wisdom you'd like to share with kids who look up to you as a role model?
Never let anyone tell you that you can't do something because of your disability. Sometimes it takes some creativity and extra effort, but there's always a way. I feel very fortunate to have grown up with family and friends who were always supportive and never told me no because of my disability. I know that played a large role in becoming who I am today. Don't let anyone take away that light in your eyes.
Jen's final note is this: no matter what you face in life, always remember to keep an open mind. Whenever you think things are really bad and you feel hopeless, always know that somewhere there is someone who has it far worse than you. Be grateful for what you do have, but continue to strive to achieve all of your goals.
Thanks, Jen and good luck!