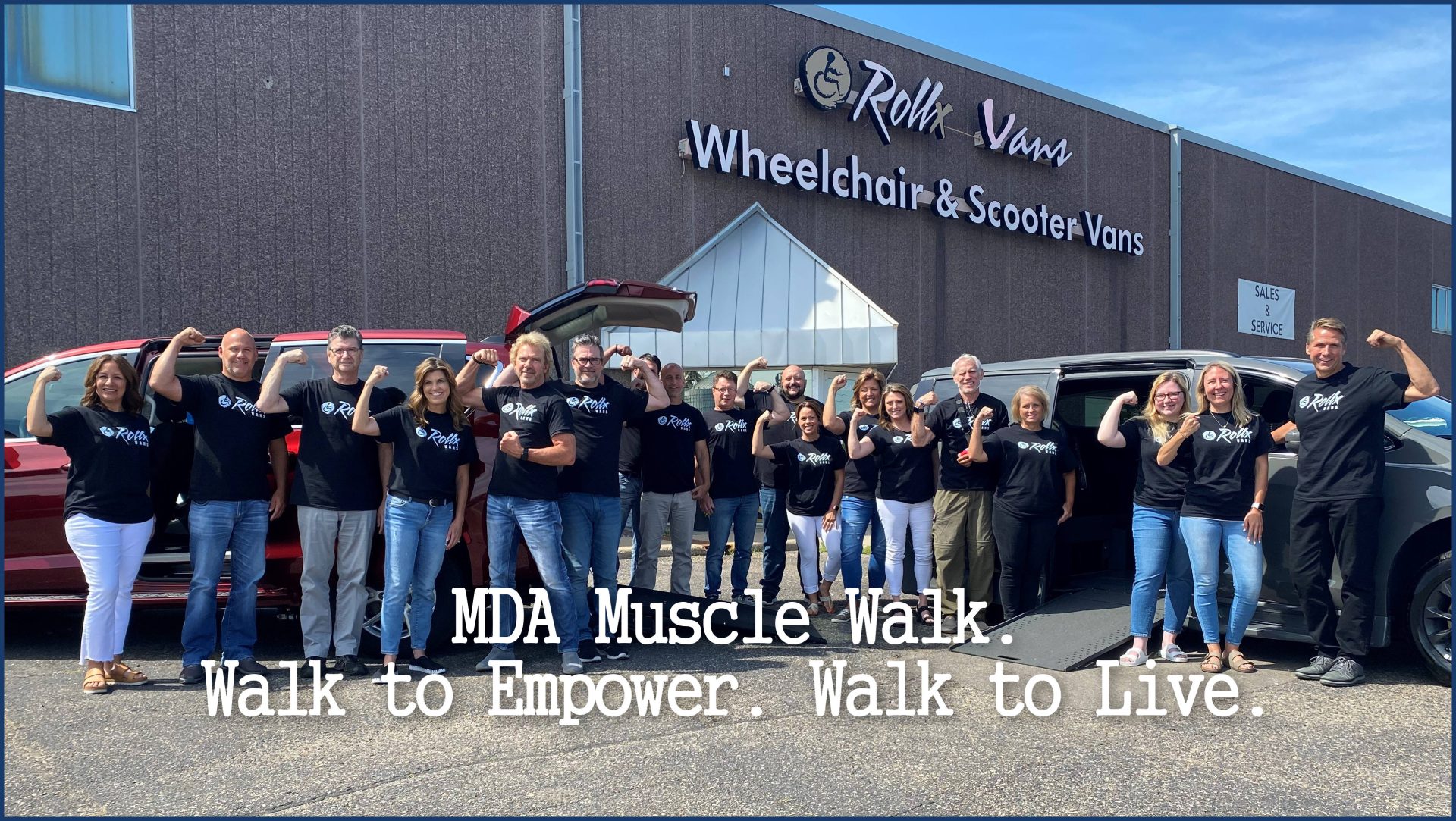 Mark your calendars for Sept. 17 if you haven't already. The annual MDA Muscle Walk of Minnesota returns to Minneapolis with the goal of raising $150,000 for the Muscular Dystrophy Association and its mission of empowering people living with neuromuscular diseases.
Rollx Vans is proud to be a sponsor of this year's MDA Muscle Walk, which kicks off at 9:30 a.m. on Saturday, Sept. 17, at the UNFI in Eden Prairie, Minnesota. Members of our team will also be on hand at one of the cheer stations, encouraging participants to cross the finish line.
What is the MDA Muscle Walk?
The Muscular Dystrophy Association has declared 2022 to be the Year of Independence. And the returning MDA Muscle Walk is all about helping people worldwide be more independent as they live their best lives with neuromuscular diseases.
MDA Muscle Walks are an annual tradition that bring together those living with and affected by neuromuscular diseases as well as those eager to help support MDA's mission. This event carried on throughout COVID-19, adopting a virtual format. 2022 marks a return to in-person events with walks taking place in the Twin Cities, Boston, and Dallas among other major cities.
"We're thrilled to be back in person empowering our families in cities across the country to participate in MDA's Muscle Walk events for a very important cause to accelerate progress for people living with neuromuscular disease," said MDA National Director of Fundraising and Community Engagement. "These events bring our families, and the people who love and support them, together to raise awareness and funds for research, care, and advocacy for the neuromuscular community."
Since the event's inception seven years ago, MDA Muscle Walks have raised funds that directly supported the development of 15 FDA-approved neuromuscular treatments. Money raised by MDA Muscle Walks has also helped support the Muscular Dystrophy Association's Resource Center as well as its MDA Summer Camp.
Whether they take part as individuals or with a team, participants in the event are MDA Walk Stars. Every Walk Star is tasked with raising funds toward the event's overall goal. The upcoming MDA Muscle Walk of Minnesota has a fundraising goal of $150,000, and we're nearly halfway toward that goal with more than a week to go.
Not only will the funds you raise as an MDA Walk Star help reach that goal — it can help you earn fantastic prizes. Every walker who raises at least $100 up to two weeks after the event will receive a t-shirt proclaiming them a Walk Star. The more you raise, the greater the rewards. If you achieve $5,000 in donations, you'll take home a beautiful full zip-up hoodie.
How Can I Get Involved in the 2022 MDA Muscle Walk of Minnesota?
The 2022 MDA Muscle Walk of Minnesota is right around the corner. But you still have time to become part of this wonderful event. Registration will remain open for the event through the morning of, so you can sign up on the spot and bring a friend or two along to join you.
Registration and tracking your progress is easy with the MDA Muscle Walk app, which is free to download in the Apple App Store and Google Play. If you plan to fundraise before and after the event, you can use the app to share on social media and with your contacts, track your progress, send thank you notes to those who have donated on your behalf, and take part in daily challenges.
You can also make donations via the MDA Muscle Walk app or at the MDA Muscle Walk website. Set up a one-time donation or make a monthly contribution, pitch in whatever you can — every dollar helps the MDA in its mission to improve the lives of people suffering from neuromuscular diseases.
The day of the event will be an exciting one. Everything kicks off at 9:30 a.m. when the registration table opens, leading up to an introductory celebration program at 10:30 a.m. The mile walk commences at 10:50 a.m., and the event ends at 11:30 a.m. Throughout the event, participants can visit different tents to amplify their experience.
Quest Podcast

Engagement tent, sponsored by Biogen: Record a message about empowering people with neuromuscular diseases and possibly have it shared in future episodes of the MDA's Quest podcast.

MDA Summer Camp

Experience tent: Get a taste of MDA Summer Camp with popular arts and crafts.

MDA Advocacy

Engagement tent: Learn about the efforts of the MDA Advocacy team and sign up to take part.
What if you have plans on Sept. 17 and can't make the MDA Muscle Walk? You can take part in the 2022 Muscle Walk Your Way. Like the in-person event, you can sign up as an individual or part of a team, raise funds, and earn rewards. There's no official walk event, so you can make your own walk by yourself or with friends and family.
Rollx Vans is excited to sponsor and take part in this year's MDA Muscle Walk of Minnesota. We support MDA's important mission, and we support Americans living with neuromuscular diseases by offering a range of mobility solutions. 2022 is the Year of Independence, and we want to help you feel freer with reliable, user-friendly vehicles that let you go and do what you love.
If you're looking for a wheelchair-accessible van, visit us at RollxVans.com and learn more about what we do. When you're ready to get started, text us at 952-522-8330, give us a call at 800-956-6668, or send an email to questions@rollxvans.com.