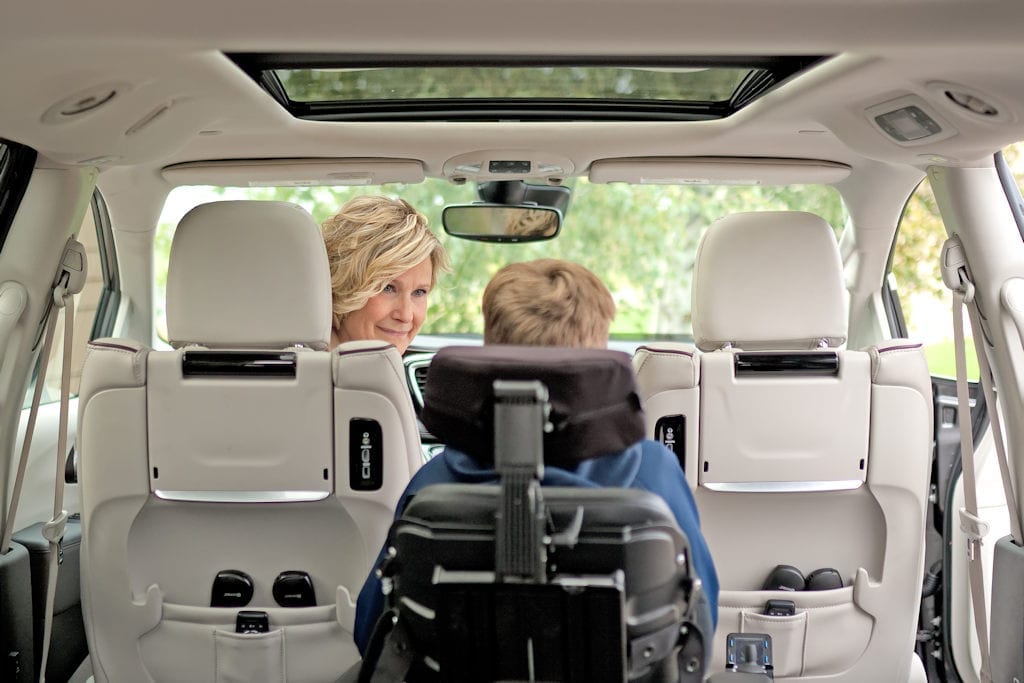 Before you purchase a wheelchair van, it's important to understand exactly what to look for in your next vehicle. Every buyer has different priorities when choosing an accessible ride, but it's never worth compromising in certain areas. A little bit of research will make the buying process easier, so read on to find out what wheelchair van features to look for during your next visit to a dealership.
The Right Fit
As with any vehicle, comfort is a top priority in wheelchair vans. To avoid bumping your head on the roof or squeezing into a small space, know some measurements first. The key measurements you'll want to pay attention to include:
° Distance from the floor to the top of your head
° Width of your wheelchair at its widest point
° Individual width of each wheel
° Combined weight of occupant + wheelchair
When you know these dimensions, it's easier to find vans that:
° Feature tall enough doors for simple entry and exit
° Utilize ramps wide enough for your wheelchair
° Provide adequate maneuverability and headroom in the interior
° Accommodate your weight requirements
A wheelchair van that is too small is more than an inconvenience; it can be a safety hazard. Put care into measuring for a more predictable, safer ride!
An Ideal Entry Point
There are two main types of access points for wheelchair vans: rear-entry and side-entry.  As their names imply, a rear-entry ramp deploys from the back of the vehicle while a side-entry ramp extends outward from the driver's or passenger's seat.
If you plan on driving the vehicle, your choice is simple. Side-entry vans are the only type to accommodate drivers in wheelchairs. Rear-entry vehicles limit a person in a wheelchair to the seating rows behind the driver seat. If you rely on someone else to help you get around, this option provides faster access to the vehicle interior, as you never have to worry about a closely parked car getting in the way of your ramp.
Financing Resources
Owning a wheelchair van makes life easier, but for some the prospect of buying one feels out of reach. That's where financing comes in. Your wheelchair van dealer should make it easy to understand your financing options and provide you with helpful resources that make the purchase easier.
Be sure that the dealership you're purchasing from has both long- and short-term financing options and competitive interest rates. What's more, there should be a fast loan approval process in place along with flexible down payment options. The dealership's financial department should be open and honest about any questions you ask and willing to help you complete your purchase as painlessly as possible.
A Thorough Conversion
Not all wheelchair vans are created equally, and what sets them apart is the conversion process. The dealership you choose should sell both new and used vans that have extensive reconditioning. This means including new carpets, high quality ramps, mechanical tune-ups and a lowered floor or raised roof. Remember, you're not buying a van with a few custom options for accessibility; you're buying a van that should be rebuilt from the ground up for optimum performance.
In addition to an extensive conversion process, customers should expect some level of customizability in a wheelchair van. Some of the most common additions to an accessible vehicle include hand controls, transfer seats, wheelchair securement options, built-in displays and unique styling options. You should also be able to choose between an in-floor and a fold down ramp, depending on your preference. If your dealer doesn't give you options, it's time to look elsewhere for your vehicle.
Safety Considerations
Safety is an important factor for anyone looking to buy a vehicle, but it's something that deserves special attention in a wheelchair van. The addition of a wheelchair in a van presents unique challenges when it comes to safety. Your dealer should go above and beyond expectations to ensure that all vehicle occupants experience a safe ride every time.
The National Highway Transportation and Safety Administration (NHTSA) creates standards that every vehicle modifier must meet. The bar is high, and only the most committed dealerships will work to exceed these standards to maximize safety. Every securement and tie down matters, and it's not worth taking a chance with a van that skimps on quality in these areas.
When you visit a wheelchair van dealership, ask about their front, rear and side crash test ratings for the vehicle you're interested in. It's the best way to find out how seriously they take safety.
Find Your Van
If you want to learn more about what to know before buying a wheelchair van, check out our FAQ page or give us a call at 800-956-6668. At Rollx Vans, we never want you to feel overwhelmed by the buying process, and we don't expect you to know everything there is to know about wheelchair vans before visiting our dealership. We're happy to answer any questions you may have about our current inventory and vehicle features. Reach out to us today!