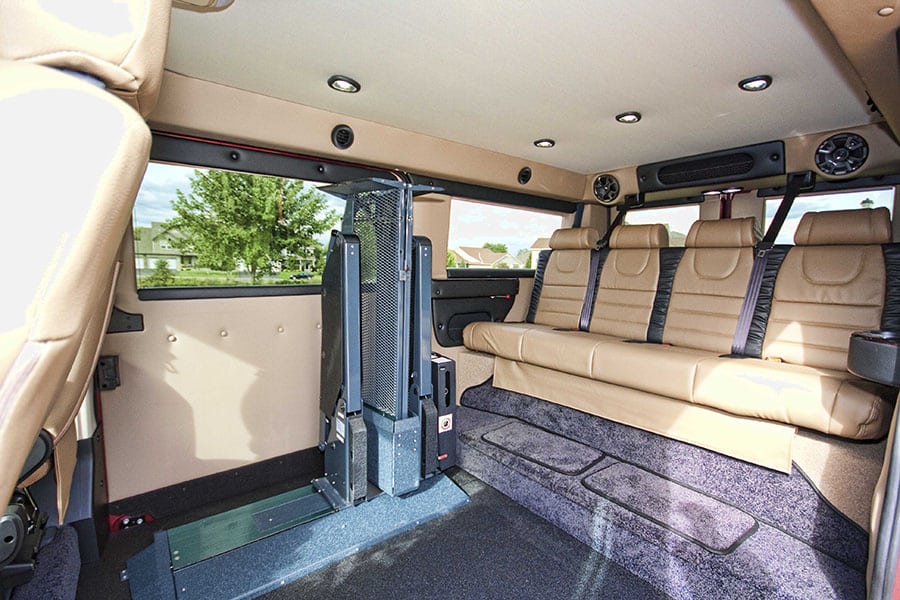 At Rollx Vans, we live by a simple motto:
Your Life, Your Ride
We want you to have the freedom and independence to go where you want to go, when you want to. All of that and more is available with mobility van conversions. Our customers have said that our wheelchair vans are quiet, ride smooth and ultimately change their lives with all the features that are available.
How do we build them?
Over several decades of production, we have simplified a very complex process, all without sacrificing quality, safety or customer satisfaction.
Take a look at our wheelchair van conversion process here.
Our Basic Conversion Process
When we get a new or used van into our production facility, the first thing our engineers do is strip out the carpet, seats and interior to make the vehicle ready for the conversion process.
Every vehicle's floor is dropped to leave plenty of headroom for passengers seated in even the most bulky power wheelchairs.
A unibody frame and stainless steel floor pan and door tracks are added to obtain maximum vehicle ground clearance and prevent rust in areas most likely to be affected. This is all set into place using industry certified welding standards.
We then add a stainless steel exhaust system that maintains the same quality as the original manufacturer. Our engineers and electricians work closely with original manufacturers to allow vans to retain all original warranties put in place by the dealer.
Finally, we add a ground effects kit that covers the dropped floor and gives the exterior of the vehicle a new, sleek look,
Conversion Features
After the initial wheelchair van conversion process, you can start designing your van to be exactly how you want it to be. From multiple tie down options to van ramps, hand driving controls and plenty of luxury or sport features, you can make your van completely your own. Just tell what you need, and our team can make it happen.
Learn More About Our Conversion Process by Watching the Video Below: