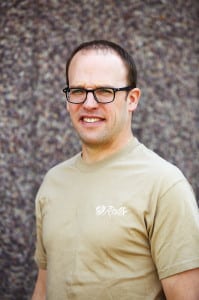 Outside of work, sales team member Marty Walterhouse enjoys spending time with his kids, riding his bike, swimming and going camping. At work, Marty enjoys being able to make a difference in someone's life and making his customers' mobility better than before they called him.
Marty has been with Rollx Vans for more than eight years and has worked with a lot of customers along the way. He took a few minutes to answer a few questions so we could get to know him a little bit better.
Does your name have a special meaning or were you named after someone?
I was named after my dad's teacher that he looked up to.
What famous person do people say you look like?
Paul Horning with less hair.
What movie have you seen recently and would recommend?
Monster's University. I haven't seen many adult movies for the last seven years. Sad I know.
If you weren't in sales, what would you be doing?
I would love to start an Irish pub from ground-up.
What did you do before you started working for Rollx Vans?
I sold cars for 12 years, sold food to restaurants and sold homes. My wife and I even started a coffee house.
What does your day usually look like?
I'm very busy on the phone a lot of the day. I spend time checking on sold vans, as well.
Do you have an inspirational story about working with a customer that sticks out in your mind? If so, what is it?
When I met a young man that did a flip in his wheelchair and to hear him talk about he inspires young kids with disabilities. It gives me goose bumps!