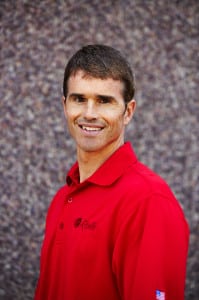 Rocky Nevin graduated from the University of North Dakota and has been with Rollx Vans for more than 20 years. He spends his days as part of the sales team talking with current customers, answering emails, and listening to prospective buyers and helping them with their questions. Rocky answered a few questions about his background, personal life and what he enjoys about his job so his customers could get to know him a little bit better.
What do you do for fun outside of work?
I really enjoy spending time with my family. I coach both of my kids in their sports and enjoy throwing the ball around for whatever season it is. I also enjoy hunting and fishing and doing anything outdoors.
What movie have you seen recently and would recommend? Why?
The movie UP! It's a good movie for the whole family, entertaining for kids and it carries a good message.
Does your name have a special meaning or were you named after someone?
You would think so… but it was before the famous boxing movies.
What famous person do people say you look like?
Matt Dillon.
What is your favorite part about your job at Rollx Vans?
In one word it would be people. I really enjoy the customers I talk to and meet. In this business everyone really has a unique situation. Rollx Vans also has a great group of people we work with that really care.
If you weren't in sales, what would you be doing?
After graduation I was a flight instructor for the University of North Dakota, so I would be flying for an airline.
Do you have a funny or inspirational story about working with a customer that sticks out in your mind? If so, what is it?
Since I've been here so long the list of stories I have is too long. It really seems like these stories happen all of the time which is one of the great pleasures of this job. Seeing people regain their independence and get back out doing the things they love to do. The most common comment I hear is, "I only wish we would have done this a long time ago."