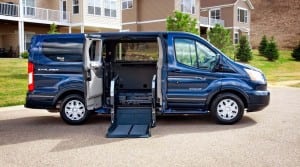 When it comes to adding new wheelchair vans to our growing fleet, we love to fill our customers in on as many details as we can. New vans are exciting and we are extremely pleased to tell you all about our latest addition to our stock: the Ford Transit van.
Introducing the New Van
The Ford Transit van is a full-size van that is perfect for large families who need the extra space. It can accommodate multiple passengers who use wheelchairs, and comes with a lift that can support even the largest, heaviest power wheelchairs on the market.
Its 310 horsepower ecoBoost engine makes transporting heavy equipment and loads of passengers around a breeze, all the while making efficient use of fuel and providing a smooth, comfortable and quiet ride for families.
It's available in three different sizes, each with a different interior height option (83.2", 100.8" and 110.2"). This range of sizes makes it a great option no matter what you are looking for in a new wheelchair van. If you want a smaller van that can fit into most garages, you can choose the smallest size option. But if space is your biggest requirement, you can always go with the largest model.
Take a look at the new Ford Transit van in the video below:
The Ford Transit Features
All of our Rollx Vans conversion vans, including the new Ford Transit van, feature a fully automatic wheelchair lift, power doors, wheelchair tie downs and even a handy remote control.
You can also choose to add hand controls, transfer seats and other accessible modifications to allow wheelchair-users to drive their van.
For Commercial and Family Use
The Ford Transit van is great for families, but it can also be used as a commercial transit van when ADA compliance is required.
No Matter What You Choose, Your Van Will Look Good
Even with all its power and space, the design of the Ford Transit van is beautiful to look at. You can also choose from a variety of amenities to increase the comfort and appeal of the the van. These can include:
Leather seating

Wood highlights

Interior lighting

Window shades

Video systems

Sirius Satellite radio
Learn More About the Ford Transit Van
To learn more about the latest addition to our wheelchair van fleet or to see what other new and used handicap vans we have for sale, reach out to a member of our team today. We are always happy to answer any questions you may have. Contact us today.