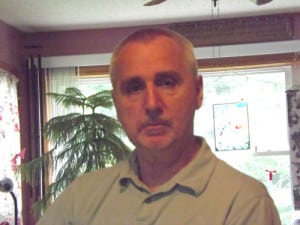 Lloyd Jones of Taylors Falls, Minnesota, has been a Rollx Vans customer since 1998. Throughout the years, he's been a loyal customer and has worked with our sales team to purchase five vans. Lloyd was kind enough to be interviewed for this post and share his journey to needing a handicap accessible vehicle. Here's his story.
Lloyd grew up in Center City, Minn. He graduated from Chisago High School in 1976 and enlisted in the United States Army. He served for four years driving trucks and doing construction work. During his time enlisted, he spent three years stationed in Germany and the final year at Fort Rucker in Alabama.
Upon completing his role with the Army, Lloyd went to truck driving school and spent the next two years working for a company driving trucks. He then moved into working in the office setting for the same company.
Around 1980, Lloyd started showing symptoms of Multiple Sclerosis and eventually was diagnosed with the disease. In 1997, he started using a three-wheel scooter and purchased his first accessible van a year later. In 2003, he started using a wheelchair.
Lloyd currently uses the Dodge Grand Caravan and enjoys the upgrades that the motor has and the increased fuel mileage on this van versus others he's owned in the past. He enjoys the ease he experiences getting in and out of the van using the lowered ramp. Plus, he's able to transfer into the driver's seat using the 6-point transfer seat and drive using the hand controls. He also said that he appreciates that throughout the years the vans have kept getting better because of the on-going adjustments to make it easier and to make everything much more accessible.
What did you think of Lloyd's story? Do you have a similar experience to share? Let us know in the comments section!
Thanks again, Lloyd, for sharing your story with us!