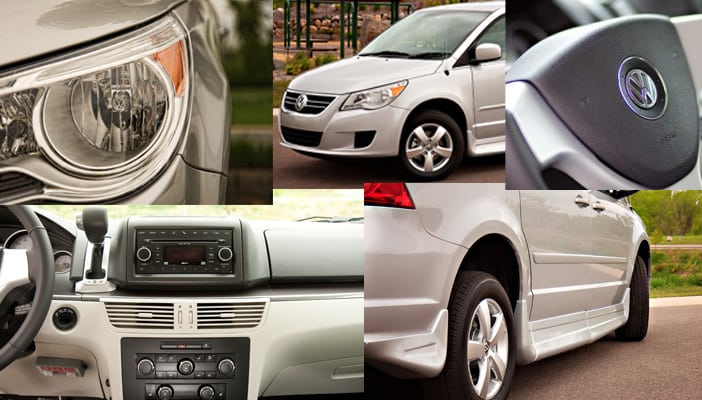 Over the past month or two, we've been going through the Wheelchair Van Buyer's Guide here at Rollx Vans.  The past couple features have been specifically on the new vans we offer.  This week was meant to spotlight the Volkswagen Routan, the fourth line of new minivans we offer.
Unfortunately though, the Volkswagen Routan is being discontinued.
It's not just that Rollx Vans won't be offering it anymore.  We mean the actual product line is being shut down.  So rather than discuss this particular van like we did with the Odyssey, Town & Country, and Caravan, we thought we'd take a moment to reflect on the Routan.
Remembering the Volkswagen Routan
The Routan is an interesting mix of a vehicle.  See, the name and logo say Volkswagen.  The exterior curves and interior aesthetics look and feel like a Volkswagen.  Much like you would expect from a "European" vehicle, it also features a tighter suspension with firm steering to match.
Beneath its sheet metal and fiberglass exterior, however, it's almost the exact same van as the Town & Country/Caravan.  The engine, the dimensions, the wheelbase, the list goes on.
The Routan is built on the same frame with the same engine.
But you'd be surprised how much the look and handling add.  Many have commented that the Routan is about as sleek and sturdy as a minivan could possibly get.  Alas, it wasn't enough to keep it in production.
Though sales have been okay for the Routan, they weren't quite good enough to keep it alive.  Part of the problem is no doubt the higher cost of the van.  Considering just how similar it was to the considerably cheaper Caravan in terms of specs, it was often a hard sell.
And so, the Routan has been retired.
The Future Beyond the Routan
Volkswagen is currently planning to replace the Routan with a crossover SUV.  While this might be good for the general public, SUVs (particularly crossovers) don't exactly offer great wheelchair access.
For the wheelchair van community, we will still be offering the Odyssey, the Town & Country, and the ever popular Caravan, all three of which are fantastic vehicles.  Could the future bring a new wheelchair accessible minivan into the mix?
Absolutely.
But that is something that only time will truly tell.  For all of you Routan and Volkswagen lovers, we do still have new ones in stock and will continue to have used Routans for years to come.  You can hop over to our inventory page here to see what we currently have.