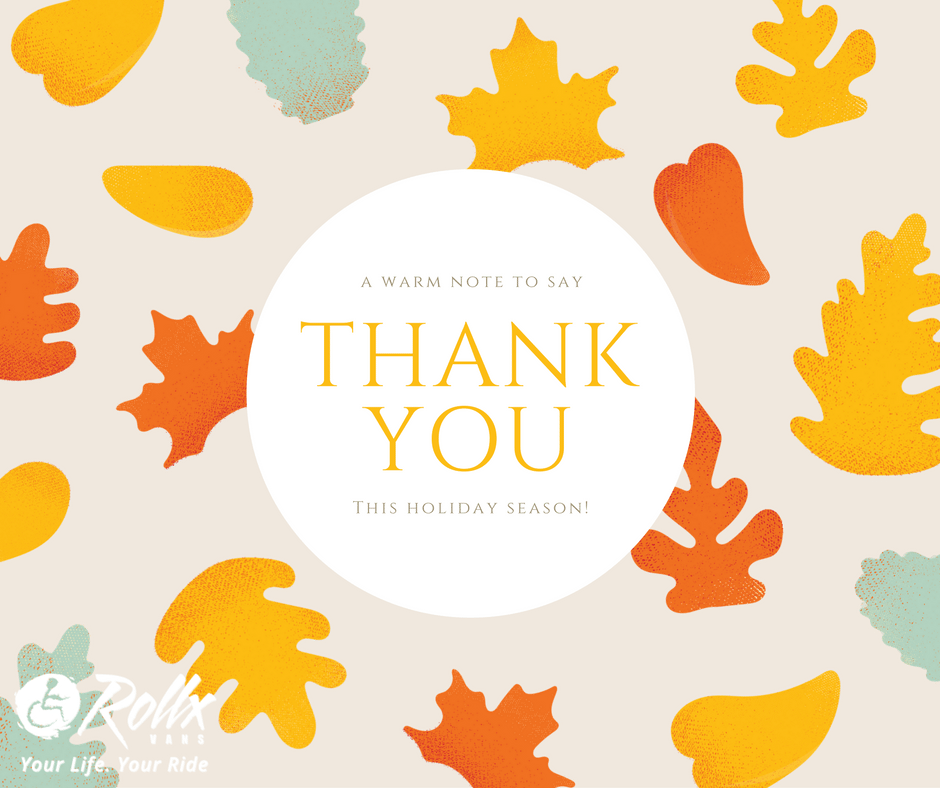 On the eve of Thanksgiving, we here at Rollx Vans just want to take a moment to thank our customers, our employees and all the organizations we have partnered with since our founder, Wade Harris started this business alongside his wife, Nancy.
For more than 30 years, we have worked hard to provide wheelchair accessible vehicles to people all over the US and beyond. We have worked with veterans, parents of children with disabilities, seniors and anyone who is looking for a vehicle that suits their lifestyle. We have lived by the saying, "Your Life. Your Ride," because we believe that every person deserves the freedom to go where they want, when they want.
We don't just sell wheelchair vans, we provide a means for people to become more independent and live their lives as they see fit. It's a job that we are more than happy to do.
A Special Thanks to Our Customers
If you follow us on Facebook, you will see us posting pictures and messages to some of the people who have purchased vans from us over the years. Some have been with us for decades, while others are just buying their first accessible vehicle. Whether you are a first time buyer, a lifelong customer or someone who is still in the process of picking their ride, we thank you for choosing us, and we wish you the best.
A Special Thanks to Our Employees
We treat our employees like family because that's what they are to us. Some have only been working here a short time, others have been with us for years. One visit to our headquarters in Savage, Minnesota is enough to see how dedicated we all are to our cause: to provide the absolute best customer service and products possible.
To all our employees, thank you for your service, your friendship and your dedication to our customers.
A Special Thanks to Our Partners
Over the years, we have partnered with many organizations from across the country. This program began in 2010 and includes:
The ALS Association

The Christopher and Dana Reeve Foundation

The Muscular Dystrophy Association

National Multiple Sclerosis Society

United Cerebral Palsy

Injured Marine Semper Fi Fund

U.S. Electric Wheelchair Hockey Association

Paralyzed Veterans of America

The International Rett Syndrome Foundation
We want to thank all these organizations for everything that they do in communities across the country.
Happy Thanksgiving from the Rollx Vans' family! We hope you all have a great holiday season.