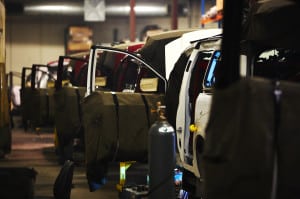 Have you ever wondered about the wheelchair van conversion process, which turns regular minivans into wheelchair adapted vehicles for sale? At Rollx Vans we have a team of about 25 engineers and mechanics that take each vehicle through the two-week conversion process in accordance with strict safety standards.

Although our handicap vehicles are customized to fit the options you choose for your wheelchair van conversion, every van goes through the various steps of our conversion assembly line. Here's an overview of the process each van goes through.
1. First, the van doors, windows and body panels are wrapped to make sure they're protected during the process.
2. Each van's interior is disassembled and placed into protective carts while the van goes through the assembly line.
3. Then, the under body, tires, gas tank and floor of the van are removed. The chassis is reinforced to make sure everything stays together while the van is being worked on.

4. A new, lowered floor assembly is welded into place.
5. The door tracks are cut out, fabricated to fit and get welded into place.
6. All welds for the floor and door tracks are then inspected to ensure they meet standards.
7. The van goes through a seam, seal and undercoating process. This is followed by the lowered interior being painted.

8. During this next step, the gas tank is installed in the back of the van and the rear suspension is re-installed.
9. The OEM wiring is modified in accordance with manufacturer specifications and the Rollx Vans wire harness is installed. This additional wiring controls the sequence of operation involved with the van lowering and the ramp coming out.
10. The exhaust is then re-built and put back into place.
11. Next, the sliding doors are modified through a fit process and installed.
12. The heat and A/C unit is installed in the back and lines are run from the unit to the front of the van.
13. The ground effects that cover the changes made to the handicap van are added.
14. A series of inspections then occurs including the checking of all critical components and a functional test.
15. The ground effects are then painted to match the exterior of the van, and the carpet pad and carpet are put into place.

16. Rollx Vans designed interior panels are added and then the ramp, kneeler and floor components are installed to complete the conversion process.
17. Prior to leaving our warehouse, a quality control inspection, alignment and complete detailing of the van are completed to make sure the handicap van meets all requirements and standards.
What do you think of this detailed process? Would you like any of these steps explained in further detail? Let us know in the comments!