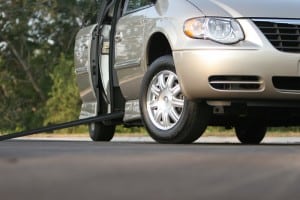 We don't shy away from first-time wheelchair van buyers. In fact, they often become some of our favorite customers to work with. When you are buying your first wheelchair van, it's natural to come with questions, concerns and reservations – buying a wheelchair is a big decision, after all – and in the end, customers who ask questions always have the best things to say about their purchase.
Some of the many things our customers have told us after receiving their wheelchair van are:
"the end result has made my life easier and a lot more flexible."
"Thank you Rollx Vans for giving my husband and me part of our life back!"
"Thank you again for making my experience, a very easy and comfortable transition, to our new lifestyle!"
We never become tired of hearing just how our van conversions have changed our customer's lives, and we guarantee that you will love the van that you purchase, as well.
Continue reading to learn more about the benefits of buying an accessible vehicle and reasons why you should definitely make the switch.
Greater Independence For Everyone
There is nothing more liberating than receiving a vehicle that can take you anywhere. Teenagers always feel this way when the get their first car. When you can go wherever you want, whenever you want, the world completely opens up for you.
But wheelchair vans don't just grant independence for wheelchair users. They are also liberating for caretakers, too. Family and friends who help support loved ones who use  wheelchairs will love to see them enter, exit and drive their vans all on their own.
Reducing Pain
Even if you are young and able to transfer yourself from your wheelchair and into a car, this won't always be the case. Transferring to and from a car for years on end can put undue strain on your body, and it won't be long before you are seeking the help of a doctor or therapist to treat you for pain in your upper body.
It's Easier Than You Think
People hesitate to make the change to a wheelchair van because they believe it will be too time-consuming or expensive. When it comes to the problem of money, there are lots of resources that can help, including:
If you are worried about time, or if you live in a remote location, our team makes the process easy. No matter where you are in the US (and even some areas outside of the country), we will deliver your wheelchair van right to your door. If you are interested in converting a van that you already own, we will pick it up from your home, convert it at our Minnesota location and bring it right back to you once it is done.
The process is easy, and our team is always there to help make it even more simple. Contact us today if you'd like to learn more about the benefits of buying an accessible vehicle.