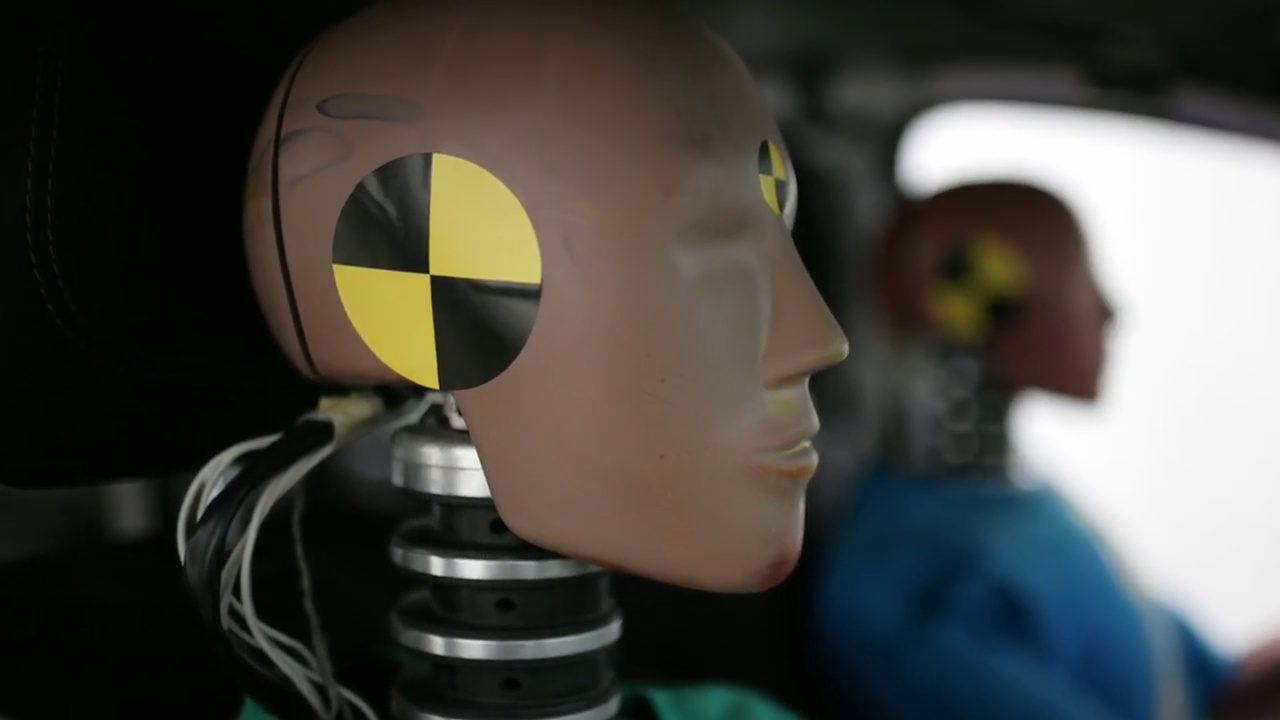 We all hope that we will never be involved in a collision on the road — but it happens. According to preliminary estimates, some 20,175 Americans died in motor vehicle traffic crashes in the first six months of 2022 alone. Because crashes are so prevalent and can have such devastating consequences, vehicle safety is of paramount importance.
While driver-assist technologies have been linked to helping drivers avoid collisions, today's vehicles must minimize the risk of death or injury in a crash as much as possible. Crash testing is a time-honored method of ensuring that a vehicle can protect occupants in a worst-case scenario. That's why Rollx Vans conducts crash testing of its own to ensure the quality and durability of our converted wheelchair vans.
A Brief History of Crash Testing
Crash testing has been the standard for testing vehicle safety in a collision for 45 years. The National Highway Traffic Safety Administration, a federal agency tasked with making vehicles safer, conducted the first of these tests in 1978 to see how cars would fare in a 35 mph frontal collision.
Over the years, the variety and complexity of the tests have advanced by leaps and bounds to ensure the best safety possible for motorists and pedestrians. Today, NHTSA conducts four different crash tests as part of its 5-Star Safety Ratings Program. Vehicles put through the program are judged by how they perform in front, side barrier, side pole, and rollover resistance tests. If a car, truck, SUV, or van earns five stars from NHTSA, it's considered one of the safest on the road.
The National Highway Traffic Safety Administration is not alone in performing crash testing. In addition to NHTSA, the Insurance Institute for Highway Safety is a reputable independent organization known for setting safety standards. IIHS uses six different tests to determine its safety scores: driver-side small overlap front, passenger-side small overlap front, moderate overlap front, side, roof strength, and head restraints and seats. Vehicles that pass these tests and meet certain qualifications related to headlights are awarded either the TOP SAFETY PICK or TOP SAFETY PICK+.
Both NHTSA and IIHS use crash test dummies to determine how safe a vehicle is in a crash. These human-like mannequins have been used in vehicle testing since 1968 and are meant to represent drivers and passengers of different weights and heights. They mimic the way a human body moves so that testers can accurately predict the level of injury the average vehicle occupant would incur in a crash. Those movements are determined through the use of colored chalk and high-speed cameras that shoot nearly 1,000 frames a second.
Crash test dummies even had a brief run as a pop culture phenomenon. In 1985, NHSTA launched a new ad campaign featuring a pair of sentient dummies named Vince and Larry. Their quirky camaraderie was so endearing that it led to a line of action figures, an animated television special, and even a video game. But more importantly, by the time the campaign concluded in early 1999, it was linked to a substantial increase in seat belt usage. For that, Vince and Larry earned a new permanent home at the Smithsonian's National Museum of American History in 2010.
Crash test dummies have evolved quite a bit over the decades, and current models include load sensors, motion sensors, and accelerometers to support test findings. Thanks to the advances in testing and the dummies used therein, today's vehicles are significantly safer than what was on offer when the first tests began 45 years ago.
Why Rollx Vans Performs Independent Crash Testing
NHTSA and IIHS crash testing are reliable standards for determining a vehicle's safety. Take, for example, the new Chrysler Pacifica. This minivan has consistently earned the 5-Star Safety Rating from NHTSA over the past several years as well as top honors from the IIHS. That should give drivers confidence enough about the engineering behind the Pacifica to entrust it with daily driving.
When a vehicle like the Chrysler Pacifica undergoes significant alterations, such as when it's converted by Rollx Vans for wheelchair access, it can't be guaranteed that it will achieve those same standards from crash testing with a stock vehicle. And that's exactly why Rollx Vans performs its own supplementary independent crash tests — because we want our customers to be confident and safe.
If a vehicle that we convert undergoes significant changes from the previous model year, we'll put it through the paces. We last tested the Chrysler Pacifica on March 29, 2017. Like NHTSA and the IIHS, we used crash test dummies with multiple sensors to monitor impact and colored chalk to see how a body might move when a vehicle is impacted. We also shoot video of the tests at 1,000 frames per second so that we can review the footage.
Where our tests differ from the two well-known safety agencies is that we perform our front, side, and rear crash tests on the same vehicle. With NHTSA and IIHS, every test is conducted using a fresh vehicle. By using the same vehicle, we can better ensure the integrity and safety of vehicles that might be involved in multi-car collisions.
When Rollx Vans tests a converted vehicle, we are as comprehensive as we possibly can be. One aspect of our tests involves filling the gas tank with a red solvent. If leaked solvent is visible after crash testing, it indicates that the fuel system is not adequately protected. Thus, we'll conduct the test again after we've made the appropriate adjustments to allow for improved results.
Carrying out these tests can be quite daunting and costly. But there's no expense and no amount of time too great to ensure that our conversion vehicles are of the utmost quality. We genuinely care for our more than 20,000 customers nationwide, and we want to take any steps we can to guarantee that the trust our customers have in us is well-earned.
When a Rollx Vans conversion passes crash testing, that model vehicle receives a verification sticker which can be found on the driver's side B-pillar. This confirms that our vehicles meet the rigorous Federal Motor Vehicle Safety Standards set forth by NHTSA. And it's just one of the ways we guarantee the excellence of our vehicles — we also use the ISO 9001 quality standard and perform multiple quality checks throughout the conversion process.
At Rollx Vans, we're proud to be the safe, convenient, and trusted resource for wheelchair vans for more than 40 years. If you're looking to upgrade to a reliable vehicle in 2023, contact Rollx Vans by calling 800-956-6668, texting 952-522-8330, or sending an email to questions@rollxvans.com. We'd be honored and thrilled to help you however we can.