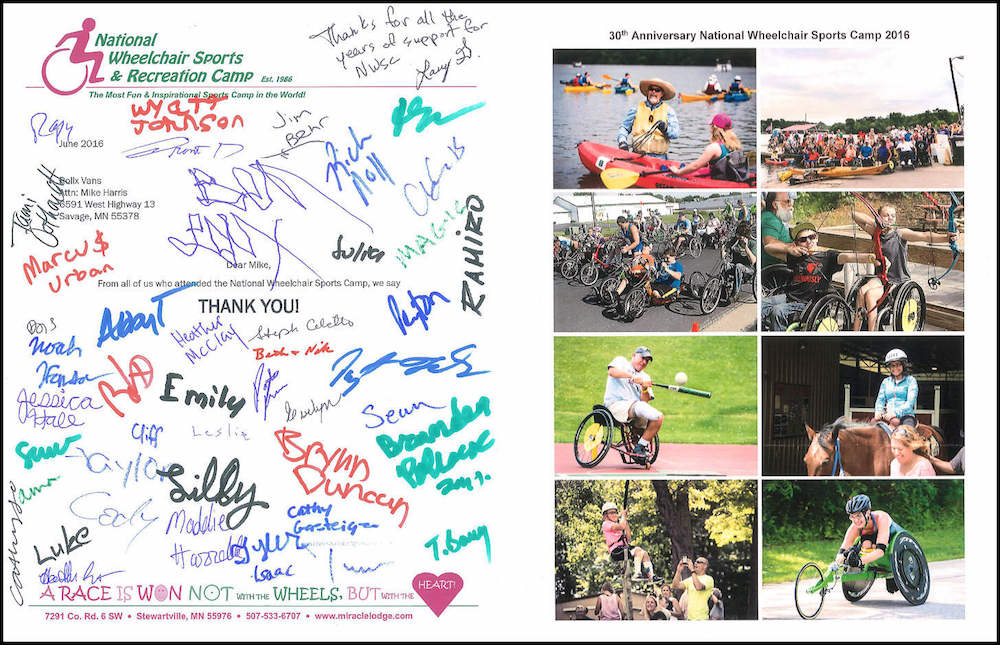 "A race is won with not with the wheels, but with the heart!"
So says the National Wheelchair Sports and Recreation Camp, an incredible event put on by the Ironwood Springs Christian Ranch in Stewartville, MN. For the past few years, we have been a proud supporter of the event, and we have recently received an amazing thank you card signed by many of the attendees.
But it is not they who should be thanking us.
Today, we wanted to take the time to say thank you to them, not only for making the event such a success, but for inspiring and helping each other to become better athletes, and better people.
We also want to thank them for reminding us why we do what we do. We are fortunate enough to change the lives of our customers by helping them become more independent and giving them the freedom to travel where they want, when they want.
It's a community of remarkable people that we are pleased and very thankful to be a part of.
About the Camp
The camp allows children and adults with disabilities to participate in a variety of sports. Some are even coached by world-class, paralympic athletes. It's a great opportunity for people of all skills levels to play and compete in adaptive sports.
Many of the sports included are:
Horseback Riding

Water Skiing

Basketball

Softball

Tennis

So much more!
If you have never played one of the sports, this is a supportive environment for you or your child to learn. We encourage everyone to attend or volunteer at the camp. The more peolpe who get involved, the better.
This years' camp is over (it ran from June 11th-16th), but feel free to check out the Ironwood Springs website for more information.
We hope to see you next year!
Did you attend the National Wheelchair Sports and Recreation Camp? What were your best memories? Join the conversation by commenting below!