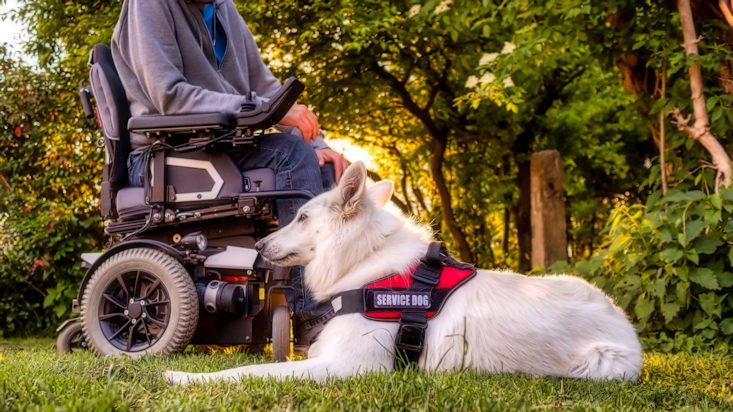 Dogs are wonderful in so many ways. They're loyal companions, part of our families, and our best friends. And for thousands of Americans living with disabilities, dogs are so, so much more. September is National Service Dog Month, and Rollx Vans would like to take the opportunity to celebrate the contributions of our furry friends and powerful organizations like our friends at Helping Paws.
The History of Service Dogs
Service dogs are a fairly new concept — the first legal recognition of service dogs happened in 1990 with the passage of the Americans with Disabilities Act. But dogs have been helping Americans with disabilities going back nearly 100 years. One of the more famous examples of a service dog is Buddy, the Seeing Eye dog of Frank Morris.
Morris spent his childhood years caring for his blind mother, and he himself became blind by the age of 16 as a result of a pair of unrelated incidences. In 1927, his father read him an article written by dog trainer Dorothy Harrison Eustis, who described a German school where dogs were being trained to assist vision-impaired veterans of World War I. Morris reached out to Eustis to learn more, and after arriving at her school in Switzerland, he met his future guide dog.
Morris and Buddy returned to the United States in 1928, and the pair set forth on a course to show the world how effective service dogs could be for people in need. The duo famously showed their connection by crossing two busy streets in Manhattan during peak traffic hours without incident. After the stunt, Morris sent Eustis a one-word telegram: "Success."
Morris and Eustis co-founded The Seeing Eye, a nonprofit in Morristown, New Jersey, which set a precedent for institutions in the field of training service dogs. Today, Canine Companions estimates that there are around 15,000 service-accredited dogs in the United States — and that 91% of Americans with service dogs say that they're enjoying greater independence since being linked with their furry friends. And if you visit Morristown Green, you'll find a statue of Frank and Buddy depicting the former commanding the latter to move forward.
In the near century since the concept of the service dog took hold in the United States, training and implementation have taken incredible leaps forward. Today's service dogs fulfill a wide variety of roles, from fetching items on command to sensing the onset of a seizure and aiding with recovery. Service dogs undergo years of training to learn the skills necessary to forge a connection with their eventual owners, and the bond between service dog and owner grows every day after the first introduction.
Rollx Vans Is Proud to Support Helping Paws
For the past 45 years, Rollx Vans has been honored to help serve the needs of Americans nationwide, and that includes several customers with service dogs. Because so many of our customers rely on service dogs for daily support, we are a proud event sponsor of Helping Paws, a powerful organization based out of Hopkins, Minnesota.
Helping Paws, which is celebrating its 35th year as an independent nonprofit, trains service dogs for people with disabilities, first responders, and veterans with PTSD. This organization breeds purebred golden retrievers and Labrador retrievers to undergo two or more years of intensive training to become assistance dogs. During these formative years, the dogs stay with foster home trainers and attend courses to help teach them the 70+ cues they need to assist their future owners.
Helping Paws is a fantastic organization, and it offers several opportunities for Minnesotans to get involved. Helping Paws is reliant on the support of more than 400 volunteers each year, including dog sitters, caretakers, foster home trainers, and general volunteers. You can also support Helping Paws with a one-time or monthly donation. By joining the Blue Coat Circle, you'll earn fun perks like greeting cards, the opportunity to observe a training class, and the chance to schedule an Assistance Dog demonstration at your business.
If you support BCC with donations of $2,500 and upward, you can earn complimentary tickets to Helping Paws' annual Tail Waggin' Dinner. This year's event takes place on Oct. 21 at the McNamara Alumni Center on the campus of the University of Minnesota. Rollx Vans is proud to be a Silver Paw Sponsor and proud to support Helping Paws' vital mission.
Helping Paws and Rollx Vans are unified in our goal to ensure that more people can enjoy the independence and richer quality of life they deserve. That commitment is why more than 20,000 customers nationwide trust Rollx Vans when the time comes to purchase a new or pre-owned wheelchair-accessible van. If you need a vehicle, our team focuses on making the process as convenient and straightforward as possible so that you can get on the road to something greater. If we can be of assistance, give us a call at 800-956-6668, text us at 952-522-8330, or send us an email at questions@rollxvans.com.