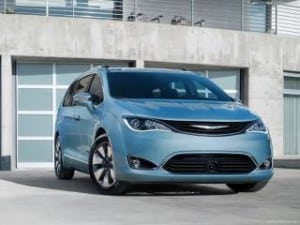 Is Chrysler Town and Country Being Discontinued?
Yes, the Chrysler Town & Country is being discontinued by Chrysler and will no longer be in production past 2016. That is the quick answer to a question that we have regularly been asked over the past few years. But, there is much more to it than that.
If you paid attention to the 2016 Detroit auto show this past January, you might have noticed something a bit strange about the new 2017 Chrysler Town and Country.
It does not exist.
Chrysler has decided to discontinue its aging Town and Country model, and replace it with a new, more sleek model: the 2017 Chrysler Pacifica. This will be one of the newest wheelchair vans that people with disabilities and their families will have as an option to purchase or have converted through Rollx Vans.
A New Minivan to Compete with SUVs
As you may already know, minivans are a great vehicle option for individuals that use wheelchairs because they provide a ton of space for family, friends, cargo and of course, their wheelchair. They also have better gas mileage ratings than larger SUVs, while smaller SUVs are much more difficult to convert into handicap-accessible vehicles.
The new Chrysler Pacifica has a more modern look that will replace the aging exterior of the Town & Country. This is apparent in the new front end design which takes a lot of inspiration from modern sedans. And, upon seeing the side and rear profiles, it is clearly noticeable that the van offers plenty of space for riders and cargo. The new van model also features LED tail lights, a more aerodynamic shape, new bucket seats and plenty of storage cubbies throughout the interior of the vehicle.
Overall, this new van model looks like it is going to be a great improvement over the Town and Country models, and we are excited to see more of the features that Chrysler releases as the van becomes closer to being available to the general public.
Does this Mean Rollx Vans Will Not Service My Town & Country Van?
Absolutely not. If you need service or repairs on your current Town & Country wheelchair van, our technicians will still be able to fix or replace anything that you need. You can either drop it off at our facility, have a technician come right to your home or we can find a reputable service station that can handle the repairs for you. We will continue to service Chrysler Town and Country wheelchair vans as long as our customers have a need for us to do so.
Farewell to an Old Friend
Now that the Chrysler Town & Country is being discontinued, we feel like we are saying goodbye to an old friend. We have been working on these vans for as long as we can remember, and we will be sad to see them go. We will, however, continue to convert used Town and Country vans into wheelchair vans as long as our customers continue to want them and as long as we are still able to get our hands on high-quality vans that we can recondition to our team's standards.
Until the Chrysler Pacifica is released, we will be watching and waiting. We are looking forward to seeing what the features of the Chrysler Pacifica can do for the wheelchair van community, our customers and their families.
Want to learn more about our plans for the final run of the Chrysler Town & Country? Or, the replacement for the Chrysler Town & Country, the Chrysler Pacifica and how it can service your transportation needs? Contact your Rollx Vans sales representative today.