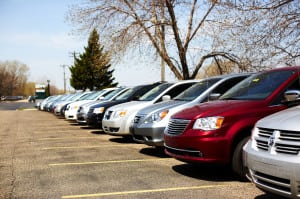 Two weeks ago, we covered the topic of choosing between a minivan and a full-size handicap van, discussing how each model has its own unique features that can make driving and riding in them a slightly different experience.
When it comes to shopping for handicap vans, we recommend that customers discuss with us their particular needs, that way we can individually manufacture each van to be a perfect fit for them, their whole family and even a few friends who want to come along for the ride.
Making the Right Choice
Consumers have choices when they shop for an accessible vehicle, but not every vehicle is made to be a converted into a sufficient and comfortable mode of transportation for people with disabilities. Sedans and coupes may be the most stylish choices for riders, but their obvious space constrictions make them a poor choice for wheelchair users.
Another option that we see on the market is converted SUVs. In recent years, SUVs have grown in popularity among drivers because they are perceived to be more stylish and safe for driving on the road, but they are not the best choice for people looking for a suitable vehicle for an accessible conversion.
Comparing Wheelchair Van and SUV Conversions
Space
When it comes to space, nothing beats a full-size van. Whether you have a large power wheelchair or a smaller, standard model chair, you will have no trouble fitting it into one of our full-size vans. Even our minivan conversions come with enough room to comfortably fit a wheelchair, passengers and more.
SUVs, on the other hand, may look large on the outside but they lack space on their interior. The back seat is usually taken up by a bench that, when removed, leaves little room for passengers once a wheelchair is loaded.
Cost
On average, SUVs tend to get lower gas mileage than minivans, and the cost of maintenance can be more expensive, as well. When you combine this with the conversion costs, SUVs are the more expensive option.
Safety
Because of their high center of gravity, SUVs are known for their capability to tip over. Even with four-wheel drive installed, SUVs can still tip if their wheels strike something hard enough while sliding.
At Rollx Vans, we take great pride in our safety ratings. Our vans are meticulously tested to ensure that they are as safe as possible. We are the only manufacturer who has passed the NHTSA's front, side and rear crash tests with just one vehicle.
When you shop for a Rollx Vans, you can be sure that you are getting the safest, most spacious and cost-efficient accessible vehicle on the market. We want to hear what you need in a van, so contact us today and let us get started on building your van.