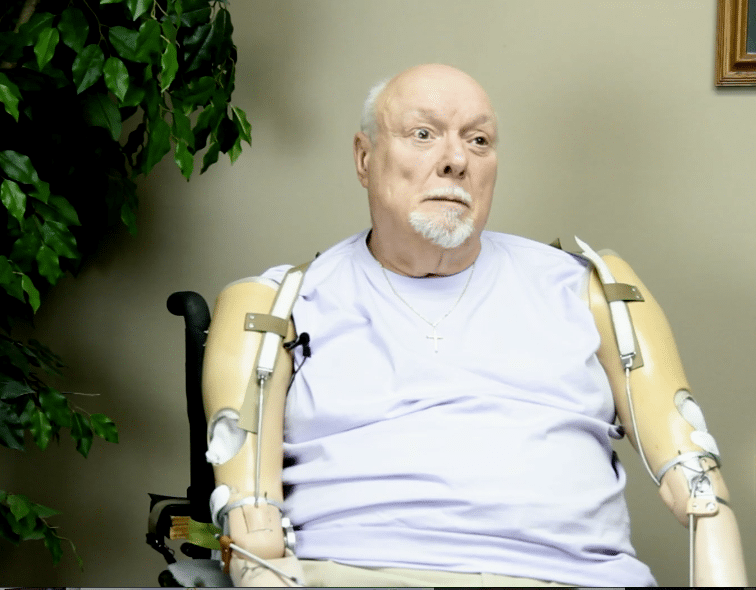 Over the years, Rollx Vans has built countless relationships with customers who have purchased a wheelchair accessible vehicle from us.  One of our favorite things that comes out of this is learning the stories behind our customers.  What their life is like.  Who they are as a person.  What a wheelchair van means to them.
Everyone's story is beautiful and unique in it's own way.  So today, we thought we'd share a particularly extraordinary story from long time customer Ron Schwerman.
A Night at Da Nang Air Base
It was February 27th, 1967.  US involvement in the Vietnam War wouldn't end for another 6 years, but after almost four years of active service,  Sergeant Ronald Schwerman was preparing to return home.  A final stop at at Da Nang Air Base on the south central coast of Vietnam, and he could see his family again.
The night had been calm, and it seemed the war would wait till morning.
Then, just past 3am, North Vietnam soldiers began firing Russian Rockets in a surprise attack.  One of the first rockets landed a near-direct hit on Ron, sending him through the air as his mind faded into darkness.
He was dead briefly, or close to it, lying by in the road.  A fellow soldier picked up his body and tossed it aside, assuming it was too late for the fallen brother-in-arms.  Meanwhile, Ron faded in and out of consciousness, the world spinning around him in slow-motion.
Inches from death, Ron was spotted by another soldier in the area who realized he was still moving.  He quickly called for assistance, and Ron was brought to a local hospital.
Over the next few months, Ron was transferred between different hospitals before ending up at the VA in Minneapolis, MN.  It was there that he was discharged due to his sustained injuries.
Ron had lost both arms and his right leg.
Back to Life
Initially, Ron's return home was pleasant.  He was able to see his wife and kids.  Most nights, he spent drinking and partying with his friends, laughing and celebrating the simple fact that he was still alive.
It didn't take long, however, for the good times to start fading.  The drinking became less of a celebration and more of a necessity to simply get through the day.  Soon, it was too much for Ron's wife to take.  For the sake of herself and their children, she left.
The next years of Ron's life were hard as he struggled with alcoholism and drug use.   Women came and went, but nothing seemed to fix what was wrong with him.  It wasn't the physical problems that were the issue.  It was something inside of himself that he describes as being broken.
Eventually, Ron would meet a woman named Eydie.  They formed a relationship, both of them carrying baggage that they realized needed to be taken care of.   They decided to get married. Together, they were able to overcome the past burdens they carried.
Putting Brokenness Aside 
Today, Ron and Edi are still together.  Though Ron's injuries are severe, he is able to enter and operate his Rollx Van by himself, allowing him to make trips to the store independently.
Ron wears two prosthetic arms with hook hands.  On his van's steering wheel, there's a knob for the right hand to hook into.  This allows him to make a complete 360 degree steering motion.  With the left hand, he controls the gas and brakes.
On the floor, there's a pedal for his left foot that gives him a few additional capabilities.  Lastly, his van is equipped with a voice scan system that gives him the ability to control windshield wipers, windows, lights, and more.
A few years ago, Ron teamed up with a journalist to publish a book about his life.  It's called Broken But Not Abandoned: A Veteran's Journey to Healing and Hope.  It tells the story of the struggles he faced after returning home, his journey to sobriety, and how he was able to heal the pain he carried inside.
You can find it on Amazon here.
For his services in the military, Ron Schwerman was awarded a Purple Heart.  We are very proud to have him as a Rollx Vans customer.
What our full interview with him below:
What do you think of Ron's story?  Do you have a story you'd like to share with us?  Let us know in the comments below!