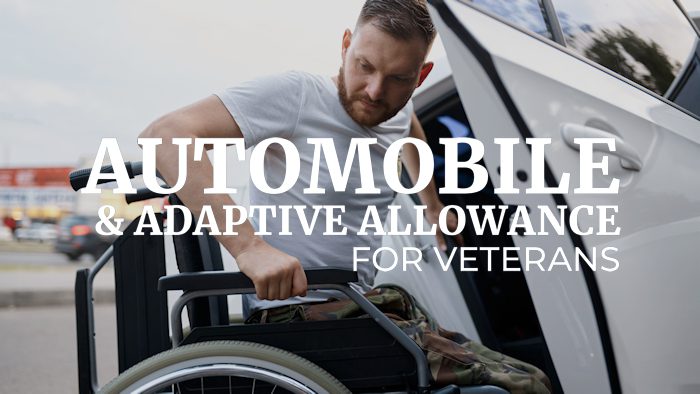 One of the great joys we experience at Rollx Vans is being able to help give our veterans the independence they so richly deserve. In the past, veterans and active service members could earn a one-time federal grant toward the purchase of a wheelchair van, but additional vehicles would need to be covered out-of-pocket or other financing methods. New legislation passed this year changes that rule for the better, and it could make it easier for you to get your next Rollx Van.
What Is the AUTO Act?
The Advancing Uniform Transportation Opportunities for Veterans Act was signed into law in January by President Joe Biden. Appropriately shortened to the AUTO Act, this law replaces a special adaptive vehicle grant previously offered by the Department of Veterans Affairs.
Under the previous program, disabled veterans and service members could apply for a VA grant that could be put toward the purchase of a new or pre-owned accessible vehicle. This would help provide transportation needed for medical treatment, therapy, and rehabilitation at little or no personal cost.
However, the previous rule was limited in that an individual could only earn the grant once over a lifetime. While additional grant opportunities existed to cover other special adaptive equipment, a second or third wheelchair van would have to be covered at the veteran's expense or through other financing or grants.
That limitation is what the AUTO Act seeks to correct. A bipartisan bill introduced by Sens. Susan Collins and Joe Manchin, the AUTO Act makes it so that any veteran or service member who hasn't received a special adaptive vehicle grant from the VA in the last 30 years is eligible to apply for another grant. From then on, veterans are eligible to receive additional benefits every 10 years.
The AUTO Act has the potential to be a game-changing benefit for our disabled service members and veterans. Even with modern engineering and safety standards, the average new vehicle has a lifespan of about 12 years. By reopening eligibility for grants every decade, the AUTO Act could essentially help vets cover the majority of their financial burden tied to transportation needs for life.
Retired Army Chief Warrant Officer Neal Williams worked with Sen. Collins on the creation of the AUTO Act, and he tells Military.com that it will be especially helpful for younger veterans and veterans who live in rural communities and have longer distances to travel for treatment. His perspective was particularly prescient — Williams, 73, used his VA grant on a vehicle that racked up 250,000 miles. He's had to pay for newer vehicles using his own money, telling Military.com that his most recent wheelchair van cost $50,000 out of pocket.
"I've worn out several vehicles. This legislation allows veterans with mobility issues to be able to get their medical care and go about their normal daily routines that they otherwise wouldn't be able to on their own," says Williams.
How Veterans Can Qualify for a Grant Under the AUTO Act
If you've never received a special adaptive vehicle grant or it's been 30 years or more since you received your grant, you can get started right away. The first step is to file a disability claim with the Department of Veterans Affairs, which you can do via an online form, by mail, in person at your local VA regional office, or with the help of an accredited representative.
In order to qualify, your disability must be the result of injury or illness incurred during your active service. According to the VA, at least one of the following must be true in order for you to be eligible:
You have lost or permanently lost the use of one or both feet
You have lost or permanently lost the use of one or both hands
You have permanently decreased vision in both eyes:

20/200 vision or less in your better eye with glasses
Greater than 20/200 vision but with a visual field defect that has reduced your peripheral vision to 20 degrees or less in your better eye

You have a severe burn injury
You have amyotrophic lateral sclerosis (ALS)
Once you qualify for disability compensation, you'll need to fill out VA Form 21-4502 if you wish to apply for a grant toward a new vehicle.
You can also use this form to apply for a grant to cover adaptive equipment, which covers the modification of a vehicle up to and including equipment to assist you with getting in and out of the vehicle. This grant may be used toward conversion options at Rollx Vans including in-floor ramps, the Rollx Vans kneeling system, and the Rollx Vans six-way power seat. And we can even provide conversions for older and discontinued vans.
If you wish you apply for a VA grant for adaptive equipment for a vehicle only, you can fill out VA Form 10-1394. Eligibility for this grant is also extended to veterans and service members suffering from ankylosis in one or both knees or hips.
Work with Rollx Vans Veteran Mobility Solutions
It's our great pride and honor at Rollx Vans to work with veterans and service members who have given so much to keep our country safe. Not only do we work closely with the Department of Veterans Affairs, but we also have a team of dedicated Veteran Solutions Specialists who can help you throughout the process.
To get started, call Rollx Vans Veteran Solutions at 800-956-6668. We'll be in touch within 24 hours and will help get you started on the path toward purchasing the right adaptive vehicle for your needs. Because we want the process to be as stress-free for you as possible, we'll also coordinate with the VA and take care of all the necessary paperwork and documentation.
We're also pleased to offer several additional money-saving opportunities, including a Rollx Veteran Special rebate of $1,000 for any veteran receiving VA funding for their first accessible vehicle. You can also take advantage of a $1,000 OEM Manufacturer Mobility Rebate on any new vehicle as well as $1,000 in Rollx Veteran Trade Allowance.
Over the past 45 years, Rollx Vans has worked with thousands of veterans nationwide to provide affordable, dependable mobility solutions. Veterans like Doug B., who has worked with us for 20 years and says, "Communication is great with Rollx and everything works. They do all the paperwork and it's wonderful, I don't see any paperwork except the ones I have to sign and that's it."
We'd be honored to help you take advantage of the AUTO Act and get on the road with confidence. To get started, call Rollx Vans Veteran Solutions at 800-956-6668. And from our entire team, thank you so much for your service.