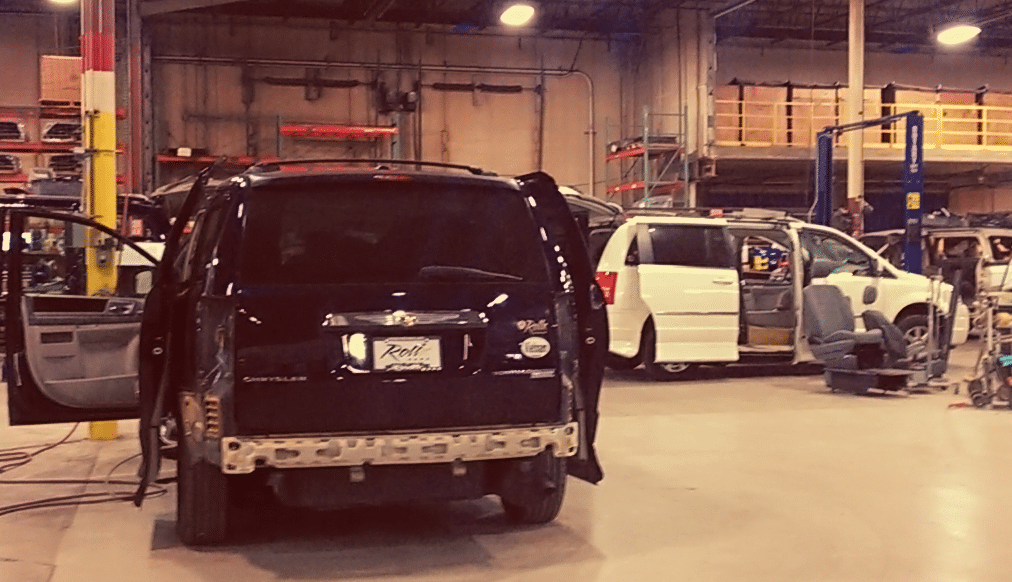 In case you didn't know, wheelchair vans aren't built as wheelchair vans.  Chrysler, Dodge, Ford, and Honda do not have wheelchair van departments that design and construct handicap accessible vans.  So how are we able to provide our wonderful, high quality wheelchair conversion vans for sale??
We convert them ourselves.
It's much more than bolting a ramp on here or adding some tie-downs there.  Van conversion involves almost completely disassembling the original vehicle and rebuilding it.  Let's walk you through the process.
The Process of Van Conversion
It starts with your typical van.  For this example, let's go with a Chrysler Town & Country.  We order vehicle much in the same way a car dealer would.  Once we have it, it goes straight to the shop.  If you're a wheelchair van user, you may know that these vehicles come  with a variety of options.  There are different ramps, different securements, and more.
What we do to it depends on what the customer needs.  How we do it is relatively similar across the board.  Because the ramp and other equipment goes into the floor, we completely rebuild the floor.  This drops the van pretty low to the ground.
That's why, when we rebuild it, we had additional guards around the bottom.  It's easy to notice that wheelchair accessible vans sit much closer to the ground than a typical van.  The wheel systems are also often dramatically changed.
Depending on the ramp, we might install hydraulic lifts to raise and lower the van as need.  For drivers who are in wheelchairs, we also redo the steering, gas, and brake systems so that they can be operated by hand.
Our van conversions follow very strict inspection guidelines.  Also, just like regular vans, our vans pass crash tests to ensure safety standards.   One could argue that our safety standards are actually more strict than those for standard vehicles.
That is (in a very abbreviated form) how our van conversions happen.  In the future, we might do a more technical breakdown.  After all, this is an incredibly thorough process that involves taking a van apart and putting it all back together.  For now, all you need to know is our new wheelchair vans are custom made by us and sold directly to you.
Where else can you get vehicle service like that?