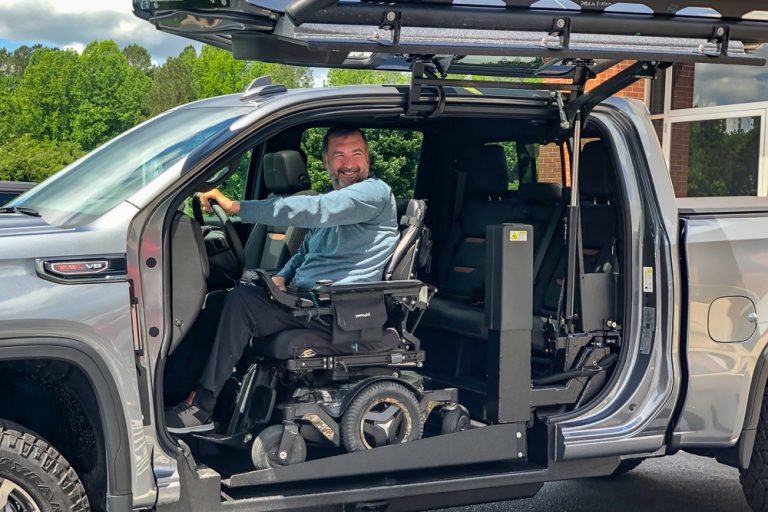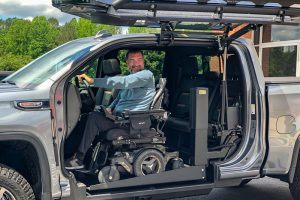 Wheelchair vans do a lot of great things.
They provide the mobility needed by many people with disabilities.  Without wheelchair vans, there would be quite a few people who simply wouldn't be able to live their lives the way they currently do.
But as great as wheelchair vans are, minivans and full-sized vans aren't necessarily everyone's first choice of vehicle.
Why Wheelchair Vans in the First Place?
A van is simply better suited for wheelchair access.  In the same way a minivan's space and security works well for soccer moms, those same features are great for people in wheelchairs.  And full-sized vans offer even more room and possibilities.
Obviously a wheelchair accessible car wouldn't work very well.
But for years, people have asked us about wheelchair accessible trucks.  After all, many modern trucks are quite spacious.
Well, thanks to advancements in technology, and a new partnership with MobilitySVM, Rollx Vans is very pleased to announce that we are now offering wheelchair accessible trucks!
How Does a Wheelchair Truck Work?
It's actually a very slick process.  On the outside, the truck looks like any other GMC or Chevy truck.  But with the simple touch of a button, the doors open to reveal a big difference.
Instead of opening on a hinge like a normal door, these doors open straight outward like the expanding sides of a high end motor home.  For anyone who's seen Robocop, you could also say the doors operate quite similarly to Robocop's holster.
The best part is, you don't have to leave your wheelchair.  You simply back up onto the lift, press the button, and it takes you right in.  The wheelchair works perfectly as the driver's or passenger's chair depending on what your set up is.
The trucks are designed to accommodate most wheelchairs without the need for further modification.  As for the truck itself, the features are what you would expect from any other Chevy or GMC truck.
GMC Sierra and Chevy Silverado truck conversion (pre-built)
1500 Series and 2500 Series models available
2-wheel drive or 4-wheel drive options
Seating for up to 5 passengers
Standard lift capacity of 750 lb (higher weights optional)
30-second load time
Viper remote start, entry and alarm system with 2000 ft. range
Rust-proofing, paint and fabric protection
3 yr/36,000 warranty on most conversion components
Towing capacity for boats and trailers
400+ HP larger engine options
Driver-side and passenger side conversions
Serviced by NMEDA QAP mobility dealers