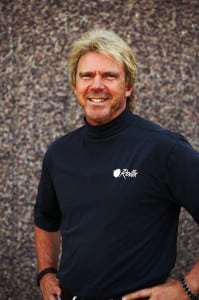 Sales and Marketing team member, Dan Delie, didn't originally want to be in sales. He wanted to be an architect, but when he was offered a unique opportunity to work with adaptive vehicle modifications, his career path suddenly changed. That was more than 40 years ago.
Dan has been with Rollx Vans for more than 19 years and enjoys working with customers throughout the purchasing process. We asked Dan to share a few things about himself so his customers could get to know more about him. Here's what he had to say.
Does your name have a special meaning or were you named after someone?
I was named after Saint Daniel. My mother always thought her little Danny would one day become a Priest.
What do you do for fun outside of work?
I have many passions outside of work. Spending time with my family is of course my favorite. Living in Minnesota offers many year round opportunities for outside activities. Minnesota is the land of 10,000 lakes so much of our time is spent in swim suits and sandals.
I am also a professional musician. I've played drums since I was 7 years old and continue to play regularly with The Rockers Band. I also enjoy photography. More than a dozen years ago I became addicted to photography; everything from studio work to candid family shots. I truly believe a photograph is worth a thousand words! Very rarely will I be seen without a camera.
What famous person do people say you look like?
I am often mistaken for MacGyver (Richard Dean Anderson) and the clerk at Subway thinks I look like Bon Jovi. I've also been told I look like Dana Carvey. Most places I go someone will come to me and say I look familiar or tell me who they think I look like. Sometimes I just play along and tell them I'm that person!
What is your favorite part about your job at Rollx Vans?
After more than 40 years in this industry, I still get a kick out of seeing the way our vehicles drastically change individuals' lives. How important regaining independence is in the healing process for many and their families.
I have made literally thousands of friends along the way and have shared emotional stories with many. I try to talk with every one of my customers at least once a year for updates on their families and to share a laugh.
I also love seeing how Rollx Vans and this industry has refined many of the products that were so crude years ago. I am very proud of the products we manufacturer and love to share that passion with anyone willing to listen!
If you weren't in sales, what would you be doing?
I have a creative mind and enjoy working with people. I can think of many careers that would fit that need perfectly.
Do you have an inspirational story about working with a customer that sticks out in your mind? If so, what is it?
I have countless stories that come to mind although as a parent myself, I love to see the joy of a mother and father when they see their son or daughter driving again for the first time. Some of these are rather emotional for me and life changing for all involved.
Some customers call and initially assume they are working with a "car salesman." I no longer take it personally but rather an opportunity to show them how when they leave here, they are getting much more than just a car!