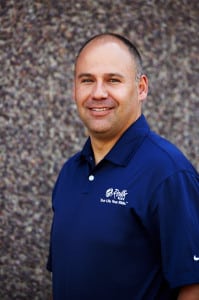 Our next sales team member interviewee has been with Rollx Vans for over nine years. He graduated from Minnesota State University, Mankato with a degree in Business Management and a minor in Marketing.
He joined our team after working for a rental car company and truly values the relationships he's built during his time here. Although his mom will tell you his name is Anthony, we all know him as Tony. Here are a few things you might not know about Tony Dahl.
What do you do for fun outside of work?
I like to spend a lot of time with my wife and two boys. We go boating on the river, camping, play a lot of golf and I coach my son's football team.
When I am not with my family, I officiate high school football, and high school and college basketball.
What movie have you seen recently and would recommend?
My movie watching revolves around the choices of a 1st grader and an 18-month-old.  I think the last movie I went to was at a 5-year-old's birthday party and it was the movie, "How To Train Your Dragon."  It was in 3D!
What famous person do people say you look like?
Tony Dahl!!  No, actually Joe Rogan.
What does your work day usually look like?
My work day is busy from bell to bell.
What is your favorite part about your job at Rollx Vans?
There are a few things: the best part of Rollx Vans is the people that I work with. It is a job, but is a lot of fun. It is great to work for a company that cares and gives back to the community.
I cannot forget the customers. Over nine years I have established a lot of great relationships with my customers, I truly value that.
If you weren't in sales, what would you be doing?
I would be doing sales of some sort; probably working in the golf industry.
Do you have an inspirational story about working with a customer that sticks out in your mind? If so, what is it?
The second person I sold a van to told me that he wanted a van to take his grand kids to Dairy Queen. Well, he called me from the Dairy Queen parking lot crying because he was so happy. I tell people that story all the time. To this day that tugs at the strings.
Is there anything else you'd like to share?
"You can't put a price tag on convenience."