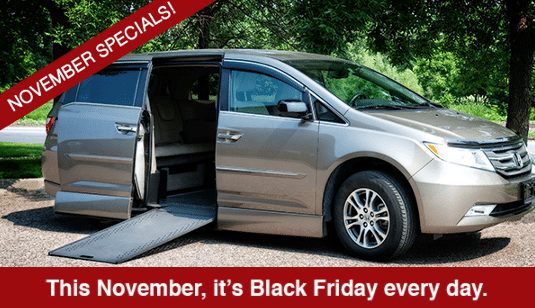 This November, it's Black Friday every day! All month long, we will be having specials offers on all used and new wheelchair van purchases.
The November Rollx Vans Special Offers
We are giving away a $100 Visa Cash Gift Card with every vehicle purchase this month. Whether you buy new or used vans, full-size or minivans, you will get a $100 Visa Cash Gift Card.
Spend it on holiday gifts. Spend it on gas. Spend it on food for the party. How you spend your Rollx Vans savings is entirely up to you! This special offer is good no matter which make or model van you purchase. All brands are included!
One-Time Offer on a 2016 Ford Transit Van
We have One Final brand new 2016 Ford Transit Van in stock, and it's now $5000 off.* The Ford Transit Full size van is normally $74,900, but it can be yours for the low price of $69,900. This is our lowest price ever on this make and model vehicle.
*There is only one Ford Transit Van left in stock, so this is a First Come, First Serve purchase. Don't hesitate to grab this van at its heavily reduced price! Contact us today to find out if it's still in stock.
Pick Your Ride Today
At Rollx Vans, we have a simple slogan: Your Life, Your Ride. We want you to have everything you could want and need in your wheelchair van purchase. From adaptive technologies to luxury features, we will work with you to customize your van to fit your life!
Use our online pick your ride tool to start designing your wheelchair accessible vehicle today.