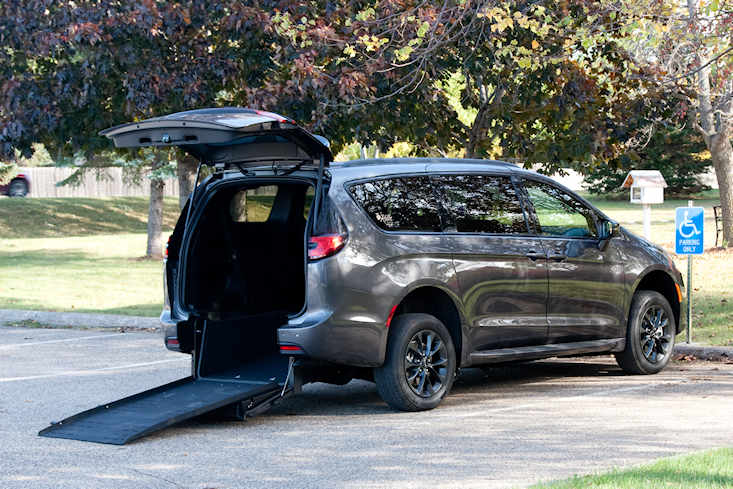 Spotlight: Rollx Vans Rear-Entry Conversions for the Chrysler Voyager and Pacifica
When it comes to the convenience of rear-entry wheelchair-accessible vans, Rollx Vans is firmly out in front. We're proud to offer a premium rear-entry conversion option for the Chrysler Voyager and Pacifica — two of the most popular minivans available today.
Rollx Vans is one of the nation's leading providers of high-quality conversion vans, giving our 20,000+ customers nationwide the independence and mobility they need and deserve. Rear-entry is one of the many conversion options we deliver, so let's take a look at what might make a rear-entry Chrysler van right for your needs.
How Does a Rear-Entry Van Work?
A rear-entry van is a particularly great choice for passengers who are wheelchair users. Our team of expert converters reconfigures the rear opening and bumper of the minivan to offer wheelchair accessibility. These conversions ensure optimal ease of use, ride comfort, and safety.
Rear-entry conversions use a spring-assist fold-out ramp that is stored vertically in the Rear Door Opening which means there's more room for passengers. It also means that a converted van can seat up to 5 passengers (2 in the front, 2 in the middle flip seats, and a wheelchair in the back).
Rollx Vans Chrysler Voyager and Pacifica rear-entry conversions are spacious and accommodating. Just look at the final rear entry dimensions of an ADA-compliant Rollx Chrysler Voyager with rear entry:
Rear Door Opening Height: 56 inches
Center Floor To Ceiling: 56 inches
Ramp Width at the Inside Edges: 34 inches
Ramp Length with Manual Foldout: 61 inches
Lowered Floor Length: 98 inches
Lowered Floor Width:25 inches
Distance Between Mid-Row Seats: 9 inches
Ramp Angle: 9 degrees
Lowest Ground Clearance Point: 5 inches
No struggling with cramped entryways. No feelings of being packed into the vehicle. You're getting the convenience and comfort you deserve. Because Rollx Vans believes that going for a ride should never have to feel like a hassle.
Which is Better: Rear-Entry vs. Side-Entry
When it comes to conversions at Rollx Vans, we wouldn't say that there's any one package or option that's better than another. But we do know that there are options that work better for different customers, and knowing what those needs are will help you make the best choice for you and your family.
Side-entry vans are the best option if the person driving the van is in a wheelchair.  They provide wheelchair and seating flexibility since both the front and passenger seats are removable.  These vans can be equipped with different ramp options as well, including power fold-out and in-floor ramps.  Since these ramps load and unload from the side, they can be a little bit more versatile for curbside access.  In addition, the side-entry requires more customization, which tends to make these conversions more costly than rear-entry vans.
Another consideration with the two options is parking. With a rear-entry van, you'll be able to park in just about any standard parking space because the ramp extends from the rear rather than the side. With a side-entry van, a handicap parking space is the most ideal because it offers space at the side for entering and exiting.
By the same token, this means that it can be harder to find street parking with a rear-entry van. Because the ramp extends from the back of the vehicle, you'll need to leave more than five feet of extra space behind the van for safe entry and exiting.
Choosing between rear- and side-entry conversions typically comes down to what you're looking for. A great way to figure that out is to contact the expert sales team at Rollx Vans and tell us what you're looking for. You can contact us via our website, by email at questions@rollxvans.com, by text at 952-522-8330, or by calling us toll-free at 800-956-6668.
Why You'll Love a Rollx Chrysler Voyager or Pacifica Wheelchair Van Conversion
When you're in the market for a rear-entry wheelchair-accessible van, Chrysler is one of the best names you can consider. Both the Chrysler Voyager and Pacifica offer premium qualities befitting a luxury ride, including perks like heated seating, cutting-edge infotainment with Uconnect 5, smartphone connectivity with Apple CarPlay® and Android Auto™, and three-zone climate control.
Pair these great minivans with Rollx conversion and you get more confidence and convenience. We add extra insulation to our vans, making some of the quietest vehicles on the road even quieter. Our Chrysler conversions also make use of our Level Ride Design, ensuring optimal comfort for driver and passenger alike.
Our goal is to ensure that everyone who needs a wheelchair-accessible vehicle can get exactly what they want and what they need. Rollx Vans is the safe, convenient, and trusted source for wheelchair conversions for more than 40 years, and we offer everything from simple financing options to convenient maintenance with our Nationwide Service Plan.
Whether you want a Rollx Chrysler Voyager rear-entry wheelchair van, a Rollx Vans Ram ProMaster wheelchair van, or aren't quite sure what's most ideal for you, we can help. Contact us and our friendly team will help you in any way we can.