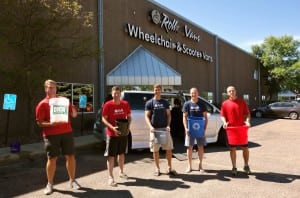 Viral videos have been known to sweep the Nation before. But, never quite to the extent that the latest viral video challenge has.
Yes, we're talking about the ALS Ice Bucket Challenge!
And, if you haven't already heard about the challenge, you surely will now!
Rollx Vans Participates
This week, Rollx Vans answered the call and took the Ice Bucket Challenge to help spread ALS awareness.
Representing our team was Rollx Vans President, Mike Harris, Sales and Marketing Manager, Scott Andrews, and sales team members Jim Mahowald, Rocky Nevin, and Marty Walterhouse.
Our team was nominated by the Savage-based digital marketing agency, Radiate Digital, and we passed along nominations to Park Chrysler Jeep, Inver Grove Honda, Ubersox Auto Group, and ALL of our Facebook fans.
You can view the video below:

Rollx and the ALS Association
Rollx Vans has been a long time supporter of the ALS Association, including sponsoring and participating in the Larry Sing Golf Tournament.
Additionally, the ALS Association is part of the Rollx Wheelchair Vans National Partner Program. Each year, Rollx Vans customers and the Rollx Vans team donates more than $1,000 to aid research and help spread awareness about ALS and Lou Gehrig's Disease.
More About the Ice Bucket Challenge
The Ice Bucket Challenge may not have originally began as an ALS promotion, but to date the challenge has raised nearly $100 Million dollars for the ALS Association.
The idea of the cold water challenge has been going on since mid-2013, but didn't officially become an ALS-specific challenge until golfer Chris Kennedy did the challenge and specifically mentioned ALS.
More About the ALS Association
The ALS Association was founded in 1985 as a nonprofit organization dedicated to raising money for research, patient services, and to promote awareness about ALS. Approximately 79 percent of the funds raised by the ALS are used to further research, assist families and their caregivers, and provide educational awareness about the disease.
What do you think about the ALS Ice Bucket Challenge? Have you participated? Comment below with a link to your video, so you can join our team in spreading awareness about this organization and their mission!