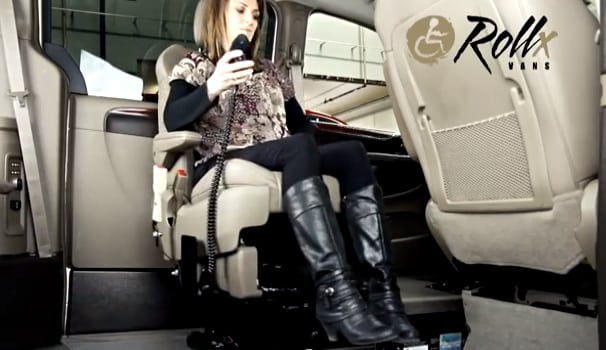 Offering a large variety of features is an important aspect of any car purchasing experience. Some might even say that features make or break the experience of a vehicle. But, when you are in need of a custom vehicle like a van conversion, options can become limited.
At Rollx Vans, we pride ourselves in offering the best technology advances as a leader in our industry. This not only makes our customers happy, but it makes their lives easier, too.
One custom feature that we offer on all of our minivan conversions is our exclusive trackless transfer seat.
The Details
The Rollx Vans trackless transfer seats are designed specifically to compliment the minivans we convert for our customers. This includes the Chrysler, Dodge, and Honda vans.
Each transfer seat allows for 20 inches of travel backward and forward. It has a nine inch vertical rise so it can be raised and ensure an easy transition between a wheelchair and the transfer seat.
The transfer seat also comes standard with a 180 degree swivel. Each of these features are powered by a six button pendant control, and the seat has a magnetic holder for the control. In addition there is a sliding footrest that assists with comfort and positioning.
The trackless system for the transfer seat is a clean, compact design. The system is monitored by our exclusive self diagnostic computer control module.
The Transfer Seat Experience
Want to see how our transfer seat works? We created a video so you could do just that!
You can view the video for yourself right here:

Contact us today to start the conversion process on your very own handicap van with our trackless transfer seat system!