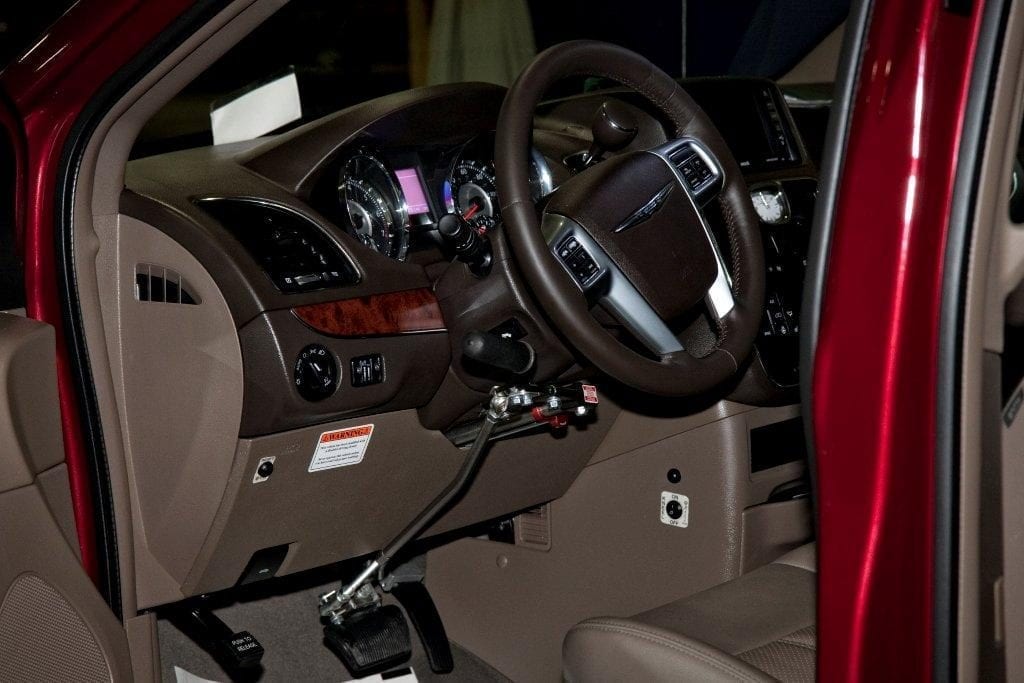 When a person with disabilities decides it's time to hit the road, there are no physical limitations to his or her journey. Relatively inexpensive hand controls for disabled drivers have made it easier than ever to get behind the wheel.
For people with physical disabilities, the top concern before getting behind the wheel is how they will control acceleration and braking. With the help of some well-designed hand controls, it's simple to control a car's speed in a way that is just as intuitive as traditional gas and brake pedals. Read on to learn about some of the major differences between each system and to discover how driving with hand controls may be easier than you think.
Push Rock
This hand control system is intuitive to use and simple for professionals to install in any vehicle. Using a handle placed to the left or right of the steering wheel, the driver pushes forward to brake and pulls backwards to accelerate. Because the handle is in a vertical position within easy reach, the driver can manage the controls effortlessly without looking.
The push rock system takes advantage of the fact that a person will instinctively push forward with their hand when they want to stop. What's more, this type of control improves the chances of safely braking in the event of falling asleep behind the wheel. Even if it's been years since your last drive around the block, push rock controls are intuitive enough to make your next one easy and safe.
Right Angle
This type of vehicular control is the most popular and the least fatiguing to use over extended periods of time. The reason for this lies in an ergonomic setup that takes user comfort into account. Like the push rock system, this design utilizes a lever to the left or right of the steering wheel, but instead of rocking the lever backwards to accelerate, the driver pushes downwards towards the vehicle floor. Braking happens when the driver pushes the lever forward.
If it's been awhile since your last road trip, this setup may encourage you to plan an interstate expedition, as you won't have to strain your body to make it happen. These hand controls are designed to feel like they fade into the background, so you can focus on the road ahead.
Push Pull
For drivers with limited finger dexterity, the push pull system may be the best option for hand controls. A push pull lever is less fatiguing on fingers because it sits parallel to the driver's torso, allowing them to grasp it with their entire hand like they would with an upright pole. As the name implies, pushing down towards the ground brakes, while pulling the handle up towards the roof accelerates the vehicle.
The learning curve for push pull hand controls may be a bit steeper than other types, because the motion to control speed is up and down rather than forward and backwards. For some people, this will feel completely natural and intuitive, while others will have more difficulty adjusting. The only way to find out how you feel with this setup is to test drive a vehicle with push pull controls on the road.
Right Hand
In a wheelchair accessible vehicle, right hand acceleration and braking controls give the driver a simple way to get from point A to point B. The control lever in this system is located further back towards the driver than with other devices. The lever is parallel to the floor, between the driver and the passenger seats, so the driver doesn't have to lift up their arm as much to control vehicle speed. Like a push pull setup, the handle is easy to grip and maneuver.
Right hand vehicle control systems are always located to the right side of the driver, so lefties might want to consider another option. Right hand controls also take up more space, meaning you'll lose some center console space using this system.
Decisions, Decisions
The type of control system you go with will not affect the performance of the vehicle, but it may alter how it feels to drive. Before you make a purchase, consider your driving style and what you value in a control system. Some people don't want to lift a finger (literally) when controlling acceleration while others prefer an extremely precise level of control. Find out which system you prefer by contacting us to set up a test drive. We'll answer any questions you may have and even come to you!
Want even more control over your ride in a wheelchair accessible vehicle? The only way to truly prepare for whatever happens on the road is to have an emergency plan. Check out our blog post, "Planning for Emergencies That Happen on the Road" to learn what you can do to make your ride as safe as possible.