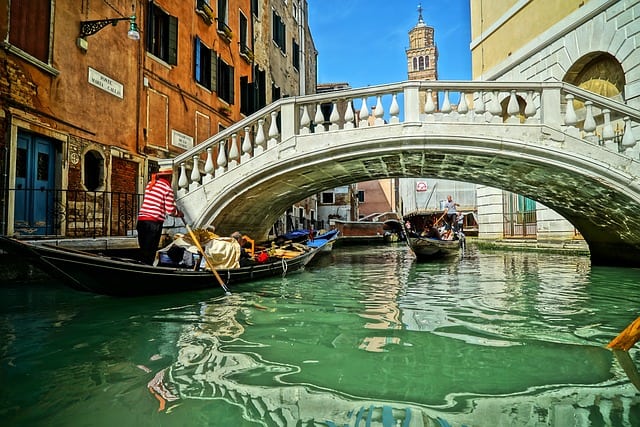 The Italian city of Venice is known for many things: its Renaissance art, unique architecture, flowing canals and annual Carnival are just a few of the reason why almost 3 million international tourists travel there each year (almost 50,000 a day, by the most recent numbers).
Despite its beauty, history and culture, Venice is also known to be notoriously inaccessible to people with disabilities. Being a centuries-old city that was built on an archipelago, it wasn't exactly designed with wheelchair users in mind.
Many of the city's narrow streets are not accessible to wheelchair vans, making it hard to get around. And while many wheelchair-using travelers head there every year, taking in the beauty and glory of the city, many have had to miss out on one of the staples of the city: its gondola rides.
Two Men Have Changed That
In a story released by Condé Nast Traveller, two gondoliers, Alessandro Dalla Pietà and Enrico Greifenberg describe how helping wheelchair-using passengers was tricky and how they would often have to "manhandle them" when transferring them in and out of the boat.
Rather than keeping the status quo, the men decided to make a push towards opening the first accessible gondola.
The Problem of Money
Although Pietà and Greifenberg had the support of a local disability organization and the plans to create the accessible jetty from recycled materials, they still needed money to fund the construction of not only the jetty, but the platform elevator and other items, as well.
Their estimated budget was 120,000 euros ($130,000).
Goodwill and More
According to the Condé Nast Traveller story, the Veneto (the region that Venice is a part of in Italy) regional authorities agreed to contribute 50,000 euros, less than half of what they needed.
Additional funds came from a semi-local hotel owner in Padua, who gave 20,000 euros to the project. Marco Maggia, the hotel's owner, specializes in accessible tourism and lost his daughter, Eleanora to spinal muscular atrophy.
With only 60,000 euros to go, Pietà and Greifenberg were only able to raise 4,000 euros through crowd-sourcing. Rather than putting the project on hold, the men decided to take out a bank loan themselves and move the project ahead.
The project is now complete, and so far over 60 wheelchair users have taken a ride around Venice on the gondola. The men named their new service Gondolas4all. Learn more about the company on their website.
Have you ever been to Venice? Do you ever plan on visiting? Let us know by commenting below!