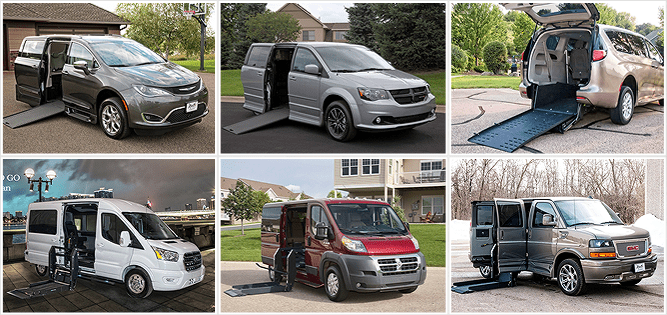 Rollx Vans has a wide selection of pre-converted wheelchair vans ideally suited to the needs of drivers and passengers across America. If you already own a van or would prefer to purchase a van and convert it sometime later, you may wonder what your options are. Don't fret — we're here to help explain which minivans, full-size vans, SUVs, and trucks can be converted to be wheelchair accessible.
What Vans Can Be Converted to Be Wheelchair Accessible?
Taking a stock minivan and converting it after the fact is a relatively quick and simple process with Rollx Vans. What's more, if you're not exactly sure what you need, this route allows you to get a vehicle that's specifically catered to you and your passengers.
Rollx Vans' expert conversion team is comfortable working with many of today's most popular vehicles. This includes some of the most trustworthy new minivan options on the market, including
Chrysler Pacifica
Chrysler Voyager
Dodge Grand Caravan
Toyota Sienna
Minivans are great choices for conversion because they offer exceptional flexibility. With minivans like the Chrysler Pacifica and Chrysler Voyager, you can opt for rear and side entry conversions, a variety of ramp styles, and the Rollx Vans 6-Way Power Seat. And if you're not sure what kind of conversion you need, our knowledgeable conversion specialists are just a phone call, text, or email away.
The conversion process is done entirely in-house, ensuring that your van gets the full attention of our team of experts. Our job begins the moment we get your vehicle because our goal is for you to enjoy full freedom and independence as soon as possible.
And if you want that extra bit of standout personality, we offer a sporty Type S limited-edition conversion package for the Dodge Grand Caravan and Chrysler Pacifica. With a Type S, you get cool features like custom paint, hood scoops, and a chrome exhaust tip.
Are Older Vans Good Options for Wheelchair Accessible Conversions?
What if you have a used van like a previous-generation Toyota Sienna? Our specialists can work with different vehicles, but we tend to recommend that your van meets certain age and mileage requirements for conversion. This makes the work simpler and ensures that your van will last as long as possible.
This also allows Rollx Vans to offer the peace of mind that comes with our 7-year/100,000-mile structural warranty — the longest among wheelchair-accessible van converters. This commitment to our work is part of the reason why Rollx Vans has more than 20,000 customers nationwide and growing.
For a van that may be too old for a wheelchair-accessible conversion, trading it in toward a new van may be an optimal route. We accept unconverted and converted vehicles, and we'll give you top dollar for your trade-in depending on its age and condition.
Can Rollx Vans Convert Other Vehicle Types?
Minivans are arguably the most popular option for conversion in most cases because they're great for individuals and families alike. But if your needs are different, Rollx Vans is also able to convert full-size vans, SUVs, and trucks.
Full-size vans include larger vehicles like the GMC Savana, Chevrolet Express, Ford Transit, and Ram ProMaster. These vehicles offer many of the same amenities you'll get with a minivan, but options like extra-tall roof heights, all wheel drive and chassis built to support larger payloads make them strong alternatives if you want more comfort and flexibility.
Full-size van conversions are also backed by warranty, ranging from 1-3 years and 36,000 miles depending on the brand. Modifications to the frame, floor, and sheet metal carry a 6-year/60,000-mile warranty.
SUVs are also options for conversion if you own a vehicle like the Chevrolet Suburban or Traverse, Ford Explorer, or Honda Pilot. These conversions can be a bit more challenging because the vehicles are often smaller than full-size vans and minivans, but you'll still get the convenience and mobility you crave with the style of a modern SUV.
Rollx Vans even offers conversions for the Chevrolet Silverado pickup truck, giving more drivers and passengers the power to experience one of the most rugged vehicles available today. If you own a pickup truck and want to explore your options for a wheelchair-accessible conversion, just reach out to our team and we'll put you on the right track.
There's so much changing in the automotive industry with new models launching every year and a wave of electric vehicles on the horizon. Rollx Vans is committed to being right there on the frontline, delivering the best in world-class wheelchair-accessible conversions for the latest minivans, full-size vans, SUVs, and trucks to hit the market.
Whatever your needs are, Rollx Vans is here to help. We offer easy virtual buying and nationwide shipping because we want everyone to have the power they deserve. We're the safe, convenient, and trusted choice for wheelchair-accessible van conversions for 40-plus years, and we're only getting started.