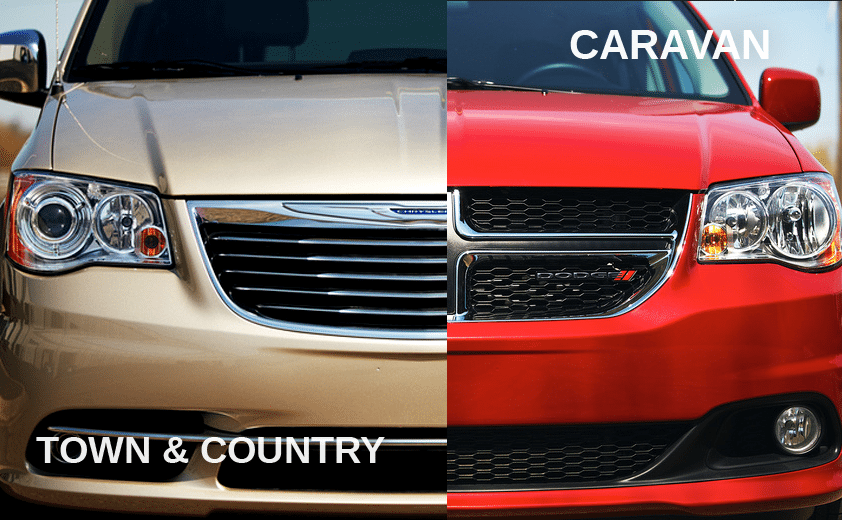 If you were to name two classic minivans, they would probably be the Dodge Caravan and the Chrysler Town & Country.  In fact, the Dodge Caravan is the oldest active minivan model in the country, having debuted all the way back in 1983.
The Caravan has proven so popular, that it's very name has come genericized, with consumers referring to other minivans as "caravans".
While the Town & Country might not be quite as old, it's proven to be nearly as popular, with both minivans selling well over 100,000 units in 2012.  Why are they so popular?  Because they've built a reputation that they're dependable vehicles that meet the needs of their drivers.  Where many other domestic minivan lines have been discontinued over the past decade, these two have continued on.
And part of that might be due to the fact that they're two sides of the same coin.
Why the Town & Country and the Caravan are Grouped Together
You see, underneath the hood, the T & C and the Caravan are largely similar vehicles.  Headroom and legroom are identical.  The frame, suspension, and external dimensions are virtually the same as well.  What's helped both vans succeed is the fact that they appeal to two different consumers.
The Town & Country is flashy, comfortable, and prestigious.
The Dodge Caravan is sporty, simplistic, and cheaper.
And the same is true for wheelchair accessible versions of these vehicles. As far as the mechanics of  vans go, the Chrysler Town & Country and Dodge Grand Caravan wheelchair vans have the same equipment.  And as we've already said, the engineering of the vehicles themselves are quite similar.
Which vehicle you purchase depends largely on what you're looking for. If you want leather seats, chrome trimmings, multiple DVD monitors, side curtains, runner lights across the ceiling, and all the other features you'd expect from a luxury vehicle, then the Chrysler Town & Country wheelchair van is for you.
If you're looking for something to simply meet your needs that's reliable, well made, sporty, and lower in price, you might want to consider a Dodge Caravan wheelchair conversion.
We recommend browsing the vehicles in our current inventory.  Between the pictures and the features lists, you should be able to find exactly what you're looking for.  Come back for our next buyer's guide segment where we'll talk about the Volkswagen Routan.
The Routan is actually built on the same platform as these two vans, but as you'll soon discover, there are some differences.