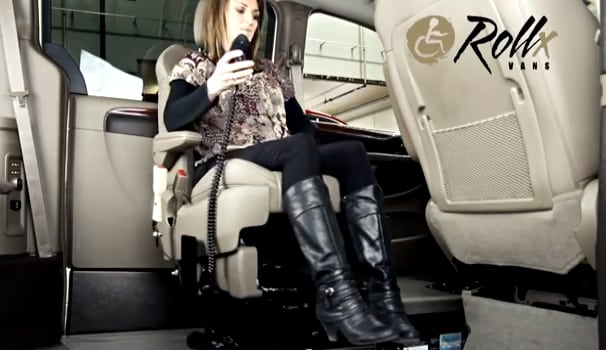 Wheelchair van transfer seats are a simple and safe way to transfer in and out of the front driver or passenger seat. We here at Rollx Vans not only manufacture and install transfer seats, we literally invented one of our own.
23 years ago, we were looking for an easier, more convenient transfer seat solution for our wheelchair van conversion options. This inspired our engineers to create and patent the very first "trackless design" for vehicle transfer seats. To this day, we are still using this same design because it really is the most safe, comfortable and easy solution for our customers.
Why Going Trackless is Better
The problem with traditional transfer seat mechanisms is that they use a track system that extends into the center area of the vehicle. The driver or passenger seat will slide forward and back on this track, positioning the seat to an open area of the vehicle and making it easier to transfer in and out of your wheelchair. Unfortunately, because the track extends into the passenger floor area of the vehicle, it interferes with your wheelchair movement, which is dirty and dangerous for your passengers.  
The unique and clean design of our trackless transfer seat does not require tracks but still allows the driver or passenger seat to move forward and backward a full 20 inches. This creates the most comfortable driving environment possible for both wheelchair and non-wheelchair users.
Our trackless transfer seats are electronically controlled by a six-button handheld pendant remote that magnetically attaches to the side of the seat or your wheelchair for easy access. Using the remote, you can move the seat back and forth a full 20 inches, up and down a full 9 inches and rotate the seat a full 180 degrees. This extended range of movement not only makes transferring easier and safer, it also allows you to adjust the seat to comfortably fit your body based on how tall you are.
The Benefits of Transfer Seats
Wheelchair users that do not transfer or prefer not to transfer will require an automatic wheelchair tie down to secure their wheelchair in the driver or passenger position. Our Rollx Vans Transfer Base is for those that can and prefer to transfer. The transfer seat will adjust the driver or passenger seat to your ideal transferring position, away from the steering wheel, front console and opposite seat, giving you legroom to rotate and safely move into and out of the seat.
See our trackless transfer seats in action in the video below:
Customization and Comfort Come Standard
Whether you choose to go with a power tie down or our patented trackless transfer seats, you will receive a wheelchair vehicle that fits your lifestyle. At Rollx Vans, customization is our promise to you. We want you to have a vehicle that is right for you, which is why we are proud to offer so many customization options to our customers.
Your Life. Your Ride
That's the Rollx Vans motto. Want to get started today? Use our our wheelchair van options to tell us Exactly what you are looking for in your first, or next, accessible vehicle.