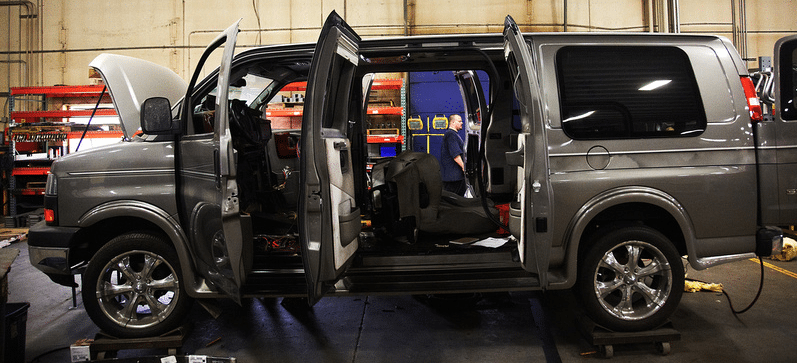 Welcome back to Rollx Vans' Wheelchair Van Buyer's Guide.  A few posts ago, we said goodbye to the Volkswagen Routan, a minivan that's being discontinued after this year.  Unfortunately, the Routan isn't the only van that's going away in 2014.
The Ford Econoline, a staple of the full-size van market, is coming to an end.  Ford is replacing it with the full-size Ford Transit.  However, the Transit will not become a wheelchair van option as it is more suited for commercial needs than personal transportation.
For our future wheelchair vans, we will be moving away from Ford.  When that transition happens, we'll make sure to let you know what van has replaced it.
In the meantime, there are still both new and used full-size Ford wheelchair vans available. Here is what you can expect when buying Ford wheelchair accessible vehicles.
Ford Econoline Wheelchair Van
The Econoline (or E-Series) brings space and style to the wheelchair van market. All Ford Econoline wheelchair vans for sale come with side entry via a lift platform.  Customers can either choose a van with a raised roof or a lowered floor, providing maximum headroom.  The distance from floor to ceiling is over 57 inches.
For those who choose to have the raised roof, you also have the option for a built in TV and DVD player with wireless headphones.
Though the vans are quite tall, the 138 inch wheelbase help to keep them planted on the ground while providing superior handling.  Speaking of handling, a variety of driving controls are available.  If needed, all driving operations can be done with hand controls.
Finally, like our other vans, a variety of securement options are available for rear wheelchair sitting.  In order to drive from a wheelchair, a power tie-down is needed.  For more information on securements and tie-downs, please watch this video here.
That's it for the Ford Econoline.  For more general information on full-size wheelchair vans, please visit our previous entry in the Buyer's Guide here.