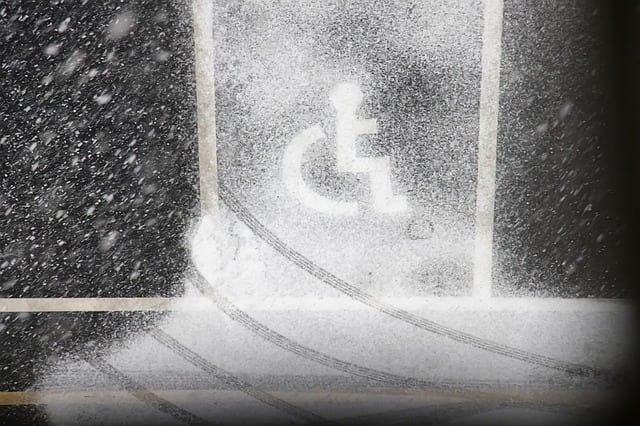 The snow may be piling up across the country, and the temperature may be getting colder, but that doesn't mean we have to stay bundled up in our homes. If you are looking to go out and about this winter, make sure you follow these winter wheelchair tips to stay safe, warm and comfortable until springtime comes.
Tips For Your Wheelchair
When venturing out into the snow (or freezing cold temperatures) in your wheelchair, make sure that you:
Prevent frostbite by covering yourself with gloves, a scarf, a hat, boots and layers of warm clothing. Remember that you can always take a layer off, but you can't put one on if you don't have the right clothing with you. You can even invest in a waterproof wheelchair poncho to stay warm and dry.

Stay warm by using a seat warmer, which are small and easy to carry along with you.

Look into snow tires for your wheelchair to help you get through slush and unshoveled sidewalks.

Get your wheelchair serviced to make sure everything is working properly.
You should also bring along a small "survival kit" in case you get stuck somewhere. This can include:
Food and water

A blanket or extra clothing

Some spare wheelchair parts (tubes, casters, etc.)

A flashlight (in case you need to make repairs in the dark)

Chapstick and sunscreen (yes! Sunscreen can help your skin in the winter, too)
Don't forget your cell phone in case you need to call for help!
Tips For Your Accessible Vehicle
Winter vehicle maintenance is crucial even for new wheelchair vans. Before you take a trip, make sure you get your vehicle serviced, which can include:
An oil change

Checking and filling fluids

An alignment

Replacing worn tires

A battery, spark plug and alternator check
If you think your vehicle needs service, give us a call at 1-866-997-Rollx (1-866-997-6559) or email our service team at RollxService@rollxvans.com.
Tips For Your Home
It's not always possible to go outside, so make sure your home is ready for the winter, as well.
When it comes to your home, you want to make sure that you always have enough food and water to last a few days in case you get snowed in. Make sure you have a few cases of bottled water handy (you can also fill up water bottles or spare containers with tap water) in case your pipes freeze over.
It's also a good idea to invest in a gas-powered generator in case the power goes out. Finally, make sure you lay down rock salt on your driveway/walkways to melt the ice and some of the snow that can build up.
Stay safe!
As a wheelchair user, have you picked up any tips of tricks over the years? Share them with the community by commenting below!