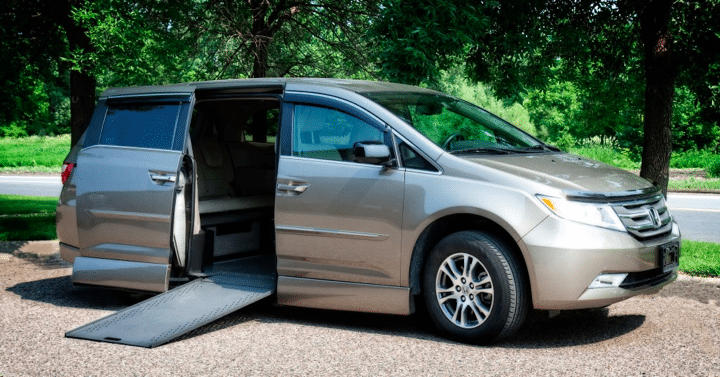 Your vehicle is a reflection of your personality and style, so it's worthwhile to put some thought into your customization choices. Even used wheelchair vans allow for a certain amount of customization because we rebuild them from the ground up to provide you with a ride that's perfect for your unique needs. Whether you're looking to upgrade comfort options on your wheelchair van or you're deciding on accessibility features that match your lifestyle, know your options to build a custom wheelchair van you love.
Comfort Considerations
No matter what van model you're interested in, it's important to have comfortable seating. Consider our trackless transfer seat base for ultimate adjustability. The trackless design provides 20" of travel, 180° of swivel room and easy-to-use switch controls. You can add this type of seating to minivans and full-size vans, so it's well worth testing it out for yourself!
A comfortable seat only goes so far if you're stuck squinting on a sunny or snowy day. You can make your second or third row seats much more comfortable by choosing a van with sunshades. Vehicles like the Honda Odyssey offer this feature as an addition to base models, so it's worth looking into if you have kids who tend to doze off in the back seats.
Music lovers will want to consider vans with upgraded audio systems. Some vans feature a dozen or more speakers, subwoofers and surround sound technology to immerse passengers in sound. Audio features will vary by manufacturer, but most brands have satellite radio options to ensure you can access music wherever you go. If you're a regular road-tripper, keep audio features on your radar.
Safety Additions
Beyond the perks that make a ride more comfortable, safety is another area to upgrade in your wheelchair van. We discussed the types of steering wheel hand controls you can choose from in a previous post, so check it out if you're wondering which setup is the best for you. How you maneuver the vehicle will have a lasting impact on how it looks and feels, so it's essential to choose a system you're comfortable with.
Easier wheelchair tie-downs are another safety upgrade that can make your life a whole lot easier. Standard, manual tie-downs work well, but there are four connection points that may take some time to lock into place. Move up to retractable tie downs, and you can secure the four connection points much faster, as they slide into place with less effort. The easiest tie-down option for a wheelchair van is a power tie-down, which allows you to roll your wheelchair right into place as it locks in automatically. With the push of a dash button, you can release your wheelchair when your drive is complete.
Accessibility Choices
You can't drive your wheelchair van without a functional ramp, and you have choices when it comes to this first point of entry. If you're thinking about purchasing a minivan, a folding ramp is the standard option, but you can upgrade to a sliding in-floor ramp. Both types work extremely well, but the sliding ramp hides below the vehicle floor for a more seamless look.
For full-size vans, you have the choice of single or double post lifts. The main advantage of a double post lift is its ability to handle more weight, so go with this option if you regularly will need to handle over 600 pounds.
You don't have to wait long to enter your vehicle when you have a remote control in hand to control your ramp. Remote keyless entry adds convenience to your daily routine, as it only takes a button press to lower your ramp or start the vehicle. You can even do so from inside your home, which is ideal for warming up your vehicle on frigid days.
Get Started
Want to learn more about how to customize a wheelchair van with Rollx? Check out our customization page to see more tips for fine-tuning your vehicle to match your preferences. When you're ready for a test drive, don't hesitate to reach out or stop by! We're here to help you find the perfect vehicle for you.