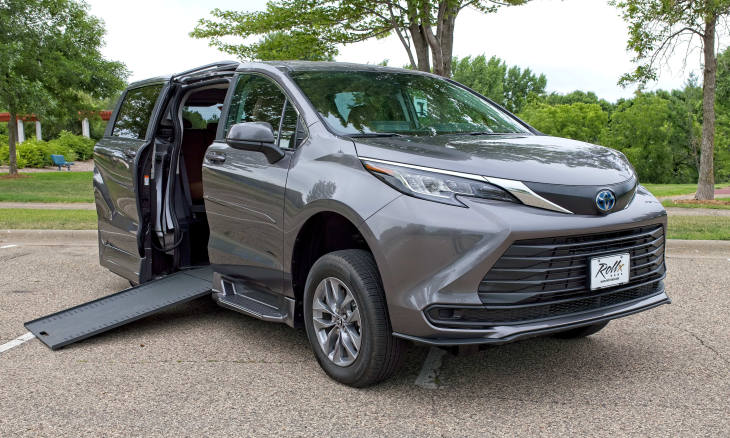 Rollx Vans is excited to offer the new Toyota Sienna among our selection of wheelchair-accessible minivans. The new Sienna comes standard with a powerful, responsive, and efficient hybrid engine, and it's the first hybrid van we've converted for drivers and passengers with mobility needs. We've applied our gold standard of excellence to ensure that the new Toyota Sienna delivers for our customers, and we're eager to show you what it can do.
A hybrid van does offer several advantages worth considering, including better fuel economy. You may also want to take a closer look at how a hybrid powertrain works and what you can expect from its battery. Once you have a sense of the pros and cons of hybrid vans, you can decide whether the new Sienna is the right choice for you.
What Does a Hybrid Battery Do and How Does It Work?
Vans powered by gasoline engines use 12-volt batteries to provide the power needed to start the engine. Hybrid vehicles also feature internal combustion engines and 12-volt batteries, but they also boast a unique hybrid electric battery that powers electric motors used to supplement engine power and boost fuel economy.
Hybrid electric batteries are recharged through a process called regenerative braking, which captures energy typically lost while braking and stores it in the battery. That means that there's no need to charge the vehicle as you would with a plug-in hybrid or a fully electric vehicle. You simply stop for gas when you need to just as you do with other vans — only you'll be making fewer stops over time since you're using less fuel.
The Toyota Sienna, like many other hybrids, uses a nickel-metal hydride battery. Ni-MH batteries have been the industry standard for hybrids for some time, though automakers continue to innovate with alternatives like lithium-ion and solid-state batteries. Because Ni-MH batteries are so common in hybrids — Toyota has used these batteries in hybrids going back more than 20 years to the original Prius — they're durable, reliable, and trustworthy.
Unlike 12-volt batteries, hybrid batteries are often stored toward the rear of the vehicle. This can result in a modest loss of rear passenger space and/or cargo room. That's not much of a concern, however, when it comes to the Sienna Hybrid. A factory Toyota Sienna offers 162.5 cubic feet of passenger volume, making it one of the more spacious passenger vehicles on the road.
How Long Do Hybrid Batteries Last?                
The new Toyota Sienna builds on more than 20 years of advancements in hybrid battery technology. As such, Toyota covers the new Sienna's Ni-MH traction battery with a 10-year/150,000-mile limited warranty. If you drive a Toyota Sienna hybrid and there's an issue with the battery in a vehicle that's protected by that warranty, it's covered. Prior to 2020, Toyota's coverage topped out at eight years or 100,000 miles, whichever came first.
But like all batteries, hybrid vehicle batteries will eventually die. And for a hybrid vehicle to function, you have to have a healthy battery. Once the battery in your hybrid is past its natural life, you'll have to replace it. Costs can vary depending on a variety of factors, but you can expect this expense to be at least $1,000 if not significantly more. If you drive a well-maintained hybrid van for more than a decade, this expense gives your vehicle a new lease on life. Old hybrid batteries are often recycled, which prevents potentially toxic waste from reaching a landfill.
It's rare that a vehicle's 12-volt battery will die while driving, and the same goes for a hybrid electric battery. If the battery does die, you won't be able to jump-start your vehicle like you would with a conventional van. But you can certainly take advantage of your 24/7 roadside assistance plan from Rollx Vans and Mobility Support Solutions™, which includes towing and paratransit assistance.
One benefit of driving a hybrid is that your vehicle may not require routine preventative maintenance as often as a non-hybrid. Rollx Vans' network of more than 360 service partners nationwide includes technicians who are familiar with hybrid and their unique needs, ensuring that you can be confident to take your Sienna Hybrid on the road.
Experience the New Toyota Sienna Hybrid at Rollx Vans
At Rollx Vans, we are committed to a high standard of quality, and that's why we're confident that the new Toyota Sienna Hybrid wheelchair van is a worthy addition to our lineup of great new vehicles. It's stylish, comfortable, and efficient — and thanks to our tried-and-true conversion process, it's a vehicle that you can rely on for years and miles to come.
If you'd like to learn more about the Toyota Sienna, have questions about owning or driving a hybrid, or want to schedule a test drive, call Rollx Vans at 800-956-6668, send us a text at 952-522-8330, or email us at questions@rollxvans.com.