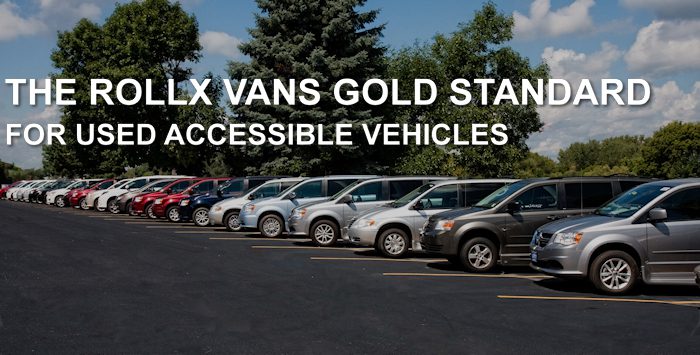 Rollx Vans is thrilled to have the opportunity to help people working with all kinds of budgets get the reliable, convenient transportation they deserve. Our new wheelchair vans represent the latest and finest options on the market, but we're every bit as proud of our expansive selection of used wheelchair-accessible vans. We know that our pre-owned vehicles deliver when it counts, and that's because we take our reconditioning process very seriously. The result: a vehicle you can count on for years and miles to come.
The Rollx Vans Reconditioning Process
There's good reason why Rollx Vans sells more used wheelchair-accessible vans than any other manufacturer today. We make every effort to ensure that our pre-owned vehicles are as trustworthy as our brand-new vans, and that's reflected in our extensive, comprehensive reconditioning process.
Why do we call ourselves the gold standard for wheelchair van reconditioning? The proof is in the process. Roughly 35% of the vehicles we manufacture every year are reconditioned pre-owned vehicles, so we have refurbishing down to a science. One of the biggest keys of our formula is a 171-point vehicle inspection, which ensures absolute reliability and is one of the most comprehensive in the automotive industry.
When we take in a pre-owned vehicle on trade or sale, we start with a sweeping assessment of its viability to determine what if any updates are necessary. Our goal is to ensure that the vehicle in question meets our rigorous standards for quality — especially with respect to safety.
That's why the mechanical inspection phase is critical to the reconditioning process. We check everything that matters, ranging from the brakes to the frame to the fuel system. This allows us to ensure that a vehicle will perform up to our standards and yours, allowing you to feel confident in the longevity of your pre-owned purchase.
If we find that a vehicle needs updates to the frame, suspension, or exhaust, our expert technicians perform the work with a dedication to detail. We'll also recondition the existing ramp or kneeling system or perform a reinstall. We're constantly working to improve the quality of our vehicles, so a newly reconditioned model will have the latest and most advanced equipment we offer, including power ramps. This ensures easier service and wider availability of parts after purchase.
And to ensure more value from your purchase, we replace any brakes, rotors, or tires that have less than 50% of their expected life remaining. From here, we perform a computerized four-wheel alignment to ensure smooth, balanced performance up to factory standard.
When It Comes to Reconditioning, What's Inside Also Counts
Another key factor that separates us from other manufacturers is the way we view reconditioning the interior of a pre-owned wheelchair-accessible van. Some companies may feel it's enough to shampoo the existing carpet and call it good. But Rollx Vans has a different, better standard for quality. That's why we install brand-new carpet in every pre-owned van we refurbish.
Before we lay down fresh carpet, we install foam-tech floor insulation, which ensures a smoother and more quiet ride. That's another consideration that goes into our wheelchair-accessible vans. This and upgrades like underbody noise shields and double-sealed insulated doors allow us to offer the quietest accessible minivan available today.
The Finishing Touches
With much of the heavy lifting done in the reconditioning process, our next step is inspection and documentation to guarantee that the finished product will comply with Federal Motor Vehicle Safety Standards. The FMVSS label applied in the inner door frame is as good as a promise of safety and excellence. This aligns with our commitment to overall quality and customer satisfaction, which is evident in our use of the ISO 9001:2015 standard.
You want your new-to-you wheelchair van to look as beautiful as it drives, and this is where our cutting-edge body and paint department comes in. Using the same standards and processes as the original vehicle manufacturer, we repair minor imperfections and apply paint, making the van look like it just rolled off the assembly line or out of the showroom.
With the process complete, all there is left to do is list the pre-owned minivan or pre-owned full-size van on our website and for you to consider the benefits of making it yours. But we don't stop our gold standard at reconditioning — we've spent the last 45 years perfecting every phase of the process from test drive to service so that you can get behind the wheel quickly and with the utmost confidence and satisfaction.
We stand behind our reconditioned wheelchair-accessible vans because we conduct our business by a gold standard. If you're looking for an affordable, reliable vehicle that can help you with your mobility needs, we'd love the opportunity to show you why Rollx Vans does it better than anyone. To get started, give us a call at 800-956-6668, text us at 952-522-8330, or send an email to questions@rollxvans.com.