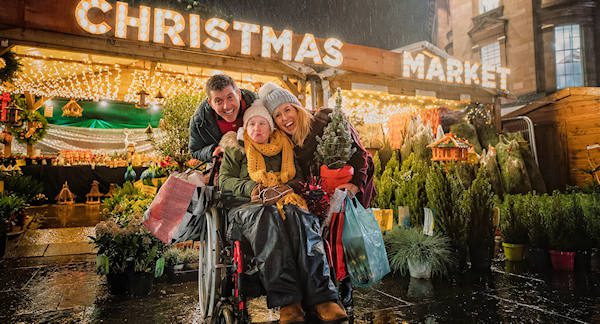 Whether you celebrate Christmas, another holiday like Hanukkah, or just appreciate the tradition, putting up a tree and trimming it with lights and ornaments is a staple for so many during the winter. While the process of decorating the tree can be something magical, transporting a bulky evergreen to your home is a different story.
Fortunately, it's not too complicated to transport your Christmas tree home if you drive a wheelchair van. As long as you take a few different things into account along the way, you'll have little or no trouble hauling that majestic tree back to the house and setting it up for all to see.
Do a Little Homework Beforehand
If you follow all the steps for transporting a Christmas tree to the letter only to get home and find that your tree doesn't fit in your house, you're not going to have a particularly holly-jolly evening. Break out your measuring tape and figure out the height of the room in which you plan to keep the Christmas tree. You'll want to leave at least a foot of distance between the top of the tree and the ceiling.
You'll also want to measure the roof of your wheelchair van to make sure it can safely accommodate the tree you buy. While Christmas trees might appear towering when they're twinkling with lights, 6 feet is a pretty typical height. A wheelchair minivan like the Chrysler Pacifica should be plenty capable of safely transporting the average tree. The goal should be to get a tree that will fit entirely over the roof of the vehicle, but one that extends slightly over the rear bumper may be okay as long as you use reflectors to alert drivers behind you.
If you drive a full-size wheelchair van like the Ram ProMaster, you may even have enough interior space to store a smaller tree inside the vehicle. New ProMaster 1500 standard roof cargo vans can accommodate cargo items up to 8 feet in length, for example. Just keep in mind that this approach may leave you with a bit of a mess to clean up. You may also be able to store your tree in the bed if you drive a Chevrolet Silverado wheelchair truck.
Make Sure You Have the Essentials
Before you head out to your local Christmas tree lot to weigh your options, you'll want to make sure you have everything you need to get your prized pine back home in one piece (and with as little mess as possible). That starts with determining whether your wheelchair van has a roof rack. If your van or truck has a roof rack, this will make the process of getting your tree home a bit easier. But you should still be just fine without as long as you bring the proper tools.
Essentials for transporting a Christmas tree include tie-downs like ratchet straps, which ensure that your tree is held in place when the vehicle is in motion. Bungee cords or a strong rope should do the trick as well. You'll also want a good pair of durable gardening gloves to help protect your hands as you handle the tree.
Be sure to bring along a blanket or tarp to wrap the tree in or cover the roof of your vehicle. While some lots will put your tree in netting to confine the branches, wrapping it again or putting down a protective covering helps ensure that your tree doesn't scratch the paint. Plus, it may also help make cleanup that much easier, especially if you're able to transport your tree inside the vehicle rather than tying it to the roof.
But maybe the most important essentials for picking out a tree? Your family. Pick an evening when everyone can be a part, build in fun little perks like dinner, hot chocolate, or a trip around the neighborhood to look at the lights. The act of going together to your local lot to pick out this year's tree has the potential to be as much a part of the tradition as decorating it or pulling presents out from underneath it.
Getting the Tree on the Roof and Back Home
Once you've gotten everything settled and claimed your Christmas tree, you'll need to go about tying it to the roof of your vehicle. If you've got the whole family with you, a team effort can make fairly short work of the process. You may also be able to get help from the people working at the tree lot.
When you place your Christmas tree on the roof, face it so that the stump is pointed toward the front of the vehicle. This reduces the chances of wind damaging the tree, though properly netting and wrapping the tree beforehand further improves your odds of getting home without any damage done.
Securing the tree to the roof with straps should be done with the doors open — don't loop straps through open windows, which is less secure. You'll want to use at least three straps, covering the top, middle, and trunk of the tree. The strap at the front of the vehicle should go just above the branches at the bottom of the tree, helping keep it secure and in place.
Before you take off, make sure you give your tree a good tug or two to make sure it's nice and secure. And even if your tree passes the test, make sure you drive slowly, avoiding the highway if at all possible. You do not want your tree to fall off the roof — not only is it dangerous, but you can be cited and fined up to $5,000 even if it doesn't result in an accident or injury.
If you have questions about what your wheelchair van can do, whether it's hauling a Christmas tree or Festivus pole home or learning about different conversion options, don't hesitate to reach out to the team at Rollx Vans. You can reach us over the phone at 800-956-6668, by text at 952-522-8330, or by email at questions@rollxvans.com.