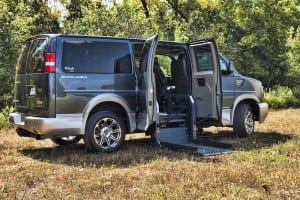 Before you know it, the holidays will be here (there's only 12 weekends left until Christmas, after all). It's a time of year where travel becomes more frequent, as people are off to see their family and friends.
Travel with your wheelchair accessible van can be a lot of fun (who wants to fly around the holidays, anyway): you can take your time, see the sights and it's the most comfortable way to travel, by far.
If you are planning to take a holiday trip this year in your wheelchair van, now is the best time to start planning. Just remember these tips for travel with your wheelchair accessible van, and your road trip will be all the more enjoyable:
Make a Plan!
It all starts with planning out your route. No matter where you are off to, you want to account for road closures, construction and other common causes of road congestion. No one likes to sit in traffic for longer than they have to.
Make a trip of it! If you see any places along your route that you want to stop, why not plan ahead and do it. The best part about traveling by wheelchair van is you can stop whenever you want!
Lastly, make note of any wheelchair accessible rest stops along your route, just in case nature calls.
Check the Health of Your Van
Before you set out, make you follow this checklist of van maintenance to-dos:
Check all fluid levels and fill those that need to be filled.

Get your oil changed (if it's time).

Check your tire pressure and replace tires/get an alignment if necessary.

Have your brakes checked.

Make sure your wheelchair van ramp and transfer seat are working properly and well lubricated.

Take your vehicle in for any other

maintenance or services

it may need!
Have Fun, Take Your Time and Bring Some Snacks
The most important tip of all: have some fun on your road trip. If you leave early enough, there will no need to rush to wherever you are going. Just remember to bring along some tasty snacks, drive safely and slowly and have the time of your life with your family and friends!
Do you have any great road trip stories or memories? Share them with the community by commenting below!