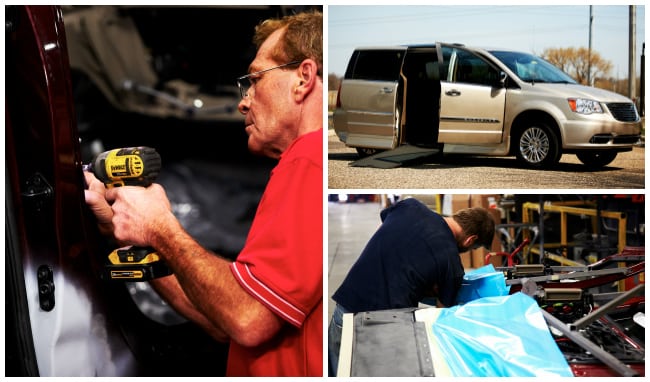 This is the third part of our three-part Beginner's Guide to Buying a Wheelchair Van. To see general information about our wheelchair vans and conversion features, go to Part 1 of this guide. To find out about full-size and minivans, their features and how to choose between new and used, go to Part 2.
How to Obtain Financing for Your Wheelchair Van
One of the largest concerns that we find customers have when shopping for wheelchair vans is cost. At Rollx Vans, we do everything we can to keep the prices of our vehicles low, but not everyone has the cash on hand to purchase one.
Thankfully, there are so many resources out there that can help you pay for your purchase, and we are more than happy to help you acquire funds or financing.
There are many organizations that will help fund transportation options for individuals with disabilities. The Veterans Administration is one of the largest that we work with. In some cases, they will even pay for your entire vehicle purchase. We can help you fill out the paperwork and go through the entire process, so don't be afraid to let us know if you need help!
There are also many city, state and county agencies, as well as private organizations that help people acquire funding for accessible vans. All you have to do is put some time into researching and contacting them.
At Rollx Vans, we also offer financing options to help you pay for your vehicle over time. You can fill out our financing application on our website.
Wheelchair Van Warranties
We stand by the work we put into all of our wheelchair accessible vans, which is why we offer 3 years/36,000-mile warranties on all our minivan power equipment. This includes the power door, power ramp, and electronic kneeling system. All our structural modifications also include a 7 years/70,000-mile warranty. This covers the vehicle frame and ramp.
Our full-size wheelchair vans include a 3 year/36,000-mile warranty, and the lowered floor, frame, and all metal fabrication on the vehicle include a 6 year/60,000-mile warranty.
Ask us about extended warranties and other offers.
Our Safety Information
There's no doubt about it: riding in one of our vehicles is one of the safest experiences you can have on the road. We previously covered tie downs and securements in part one of this guide, and now we are going to go over vehicle safety.
When working on our vehicles, both new and used, we put safety first. We are the only accessible van manufacturer that has passed all three tests (front, side and rear) using just one vehicle! We abide by every requirement put forth by both the National Highway Transportation and Safety Administration (NHTSA) and the Federal Motor Vehicle Safety Standards (FMVSS).
Read more about our safety guidelines.
Delivery Options
If you've finally made the decision to purchase one of our vehicles, know that we have three delivery options available:
If you live close to our location here in Savage, MN, then feel free to swing by and pick your vehicle up in person. We will hand the keys over and let you drive it right off the lot!

If you don't live close by and still want to visit us, we will pay for your airfare or driving expenses to Minnesota so that you can get your van in person.

We will have a Rollx Vans employee drive it right to your door and personally hand the keys over to you.
No matter which option you choose, one of our technicians will show you all the great features that come with your van, including how to operate the doors, lift/ramp, driving controls and more.
Wheelchair Van Service
Whenever your van needs service, know that we here at Rollx Vans will do everything we can to get you back on the road as soon as possible.
If you live close to our Savage, MN location, you can always drop the van off here and we will handle the rest. If not, we can help you find one of our qualified service partners close to you, no matter where you live.
If we can't find a service center located close to you, we will personally send a technician to your home to fix the vehicle or bring it in for service.
Wrapping Up
That's the end of our guide! We hope you learned all you needed to know about our company, our vehicles and the various services we provide. If you ever have any questions, don't hesitate to call us at 1-800-956-6668, or send us an email.